The Land That Time Forgot
(1975)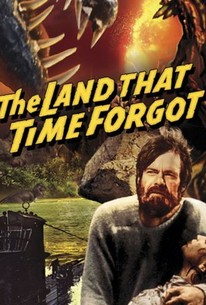 The Land That Time Forgot Photos
Movie Info
In this low budget fantasy adventure from Britain, based on Edgar Rice Burroughs' 1918 science fiction novel, a German submarine holding American prisoners of war during World War I, veers off course. Lost at sea, the submarine empties its fuel supply and runs aground on an uncharted island in the Antarctic. The survivors find that the island contains an ancient oil refinery that can be used to fuel the submarine. The only problem is that the group of Germans and Americans have to battle gigantic dinosaurs and primitive cavemen as they make their way through the island. The Land That Time Forgot was enough of a success to spawn a 1976 sequel called The People That Time Forgot.
Critic Reviews for The Land That Time Forgot
Audience Reviews for The Land That Time Forgot
½
Welcome to Jurassic Pa...no wait. The first fantasy film that Mr McClure starred in which lead to him starring in three more out of this world flicks that are all slightly similar...in visual style at least. Why are they similar? because all but one are British Amicus productions, this film was a surprise success and lead to the sequel plus another Edgar Rice Burroughs fantasy novel adaptation. The plot is that usual spin, bunch of people get lost somehow (usually at sea, under the sea or in the air) and end up in some mysterious uncharted land. This time we start in the past (again), WWI era, on a German U-boat. The nasty krauts have sunken a ship which just happens to have McClure and an attractive blonde on it...oh and some other blokes. When the U-boat surfaces near them they take it by surprise, seize control, lose control, the radio gets smashed, realise there isn't enough fuel, food or water to get them back to allied territory...oh and they've been going in the wrong direction too. This all leads to the gang reaching the mysterious massive island of 'Caprona'. Its funny because the film actually starts off as quite a decent war flick, everything that happens on the sub is pretty neat really, in that silly gung-ho all American 'Dirty Dozen' type way. To be honest you do start to wonder if they will ever get to the land that time forgot, they spend so much time at sea fighting each other. This film is definitely a bit of a classic really, everybody has heard of this I think, and to be frank its not too bad although not as good as I recall. Once we get to the lost land its as you would expect with jungles, swamps, volcanoes, primitive tribal men and lots of big rubbery dinosaurs...yeah this is McClure territory right here people. All the dinosaurs are based on real known dino's but of course there is much artistic license. Some are clearly bad models on wires that don't move at all (Pterodactyl), some are puppets that rise from the water, whilst most are men in rubber suits lumbering around with some truly awesome roaring monster sound effects. It looks terrible but I just adore those shots of the actors in the foreground and the dinosaurs/creatures/monsters bluescreened into the background, its dreadful but you gotta love it, staple diet of these flicks. Put it this way if you don't like mega cheesy stuff like that then you're watching the wrong type of films. So once its decided or discovered that there is fresh oil on this fantastic bountiful island everyone goes off to find it with the help of a local primitive man (looking suspiciously like a neanderthal). Long story short they find oil and manage to build their own little military base at the same time including some kind of machinery, pump for the oil I think, nice. The film then wraps up with the predictable volcanic eruption that threatens to destroy the whole island scenario...or so I thought. Turns out it doesn't and I'm not too sure why the volcano goes off either, or why we get this dramatic finale when all they had to do was leave that particular area. Its at the very end we discover this lost island is actually gigantic with its own massive range of snow capped mountains that go on for some distance, how the hell has this place not been found over and over?!. So yep the film is utterly stupid, makes no sense and things happen simply so you have an action fantasy film to watch. The hook is its a Doug McClure flick and its fudging awesome, that's the bottom line my friends, you watch this because you know what you're gonna get, McClure kicking some prehistoric ass baby!.
Phil Hubbs
Super Reviewer
From The MGM Midniote Movies Double Feature collection, I've watched this a million times on TV over the years and might have even seen it in the drive in when it first come out, made when here in the US and Britain the Germans were still not to be trusted. A cargo ship is sunk by a German U boat and when it surfaces the crew in life boats take over the German sub, they end up lost and in the Land that Time Forgot, a land with dinosaurs and cave men. Nothing outstanding a good Sunday afternoon film. 3 stars 11-08-12.
Bruce Bruce
Super Reviewer
½
To children this will no doubt be an exciting film full of cool monsters and tense moments. As an adult I found it to have blatantly racist and Imperialistic undetones and was a bit bothered by the fact that they spent much of the movie thoughtlessly slaughtering all of the inhabitants (both beast & human) of "The Forgotten Land" with little regard. Normally it's easy for me to over look these sorts of things in older films, but this wasn' THAT old! And they just kept KILLING everything! : P If you can get past that, it was a (mostly) enjoyable sci-fi journey and it was fun seeing Colin Farrell as a young lad in a very minor role. One can't help but see similarities to the original "Land Of The Lost" as well, they even have their own "Chaka"! I must give them credit for a surprisingly bleak ending, which was rather unexpected.
The Land That Time Forgot Quotes
There are no approved quotes yet for this movie.