Laura
(1944)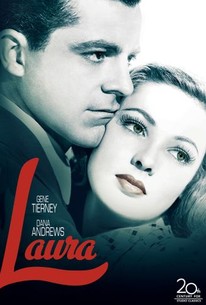 Movie Info
This adaptation of Vera Caspary's suspense novel was begun by director Rouben Mamoulien and cinematographer Lucien Ballard, but thanks to a complex series of backstage intrigues and hostilities, the film was ultimately credited to director Otto Preminger and cameraman Joseph LaShelle (who won an Oscar for his efforts). At the outset of the film, it is established that the title character, Laura Hunt (Gene Tierney), has been murdered. Tough New York detective Mark McPherson (Dana Andrews) investigates the killing, methodically questioning the chief suspects: Waspish columnist Waldo Lydecker (Clifton Webb), wastrel socialite Shelby Carpenter (Vincent Price), and Carpenter's wealthy "patroness" Ann Treadwell (Judith Anderson). The deeper he gets into the case, the more fascinated he becomes by the enigmatic Laura, literally falling in love with the girl's painted portrait. As he sits in Laura's apartment, ruminating over the case and his own obsessions, the door opens, the lights switch on, and in walks Laura Hunt, very much alive! To tell any more would rob the reader of the sheer enjoyment of watching this stylish film noir unfold on screen. Everything clicks in Laura, from the superbly bitchy peformance of Clifton Webb (a veteran Broadway star who became an overnight movie favorite with this film) to the haunting musical score by David Raksin. Long available only in the 85-minute TV version Laura has since been restored to its original 88-minute running time. ~ Hal Erickson, Rovi
News & Interviews for Laura
Audience Reviews for Laura
½
A good whodunit noir that, despite a plot weakened by contrivances (the worst being the detective falling in love with a dead woman's portrait), is memorable mostly because of David Raksin's score and the film's great dialogue (with Clifton Webb, fantastic, getting the most cynical, priceless lines).
Carlos Magalhães
Super Reviewer
The presumed death of a woman spurs a detective's investigation of her life and his slowly burning affection for the victim. A classic noir story shot in the brilliant shadows of forties noir cinematography with all the snappy dialogue that we come to expect of the genre, Laura is fun to watch. The actors' rapid fire delivery presents quick wits, and I always like how fast these films move. The story is as circuitous as The Third Man, but Laura is clearly not as strong because the relationship between McPherson and Laura is not as well developed as The Third Man and a greater mystique is built around Orson Welles's character; regardless, to be mentioned in the same breath as The Third Man is an achievement. Overall, if you like noir films, then this one delivers.
Jim Hunter
Super Reviewer
One of the most classic and iconic of film noirs, "Laura" is oftentimes seen as much as a voyeuristic and tranquil love story as a thriller. This comes from Detective Mark McPherson's (Andrews) infatuation with a portrait of the deceased that hangs in her own apartment. Though there isn't any declaration of love or perverted intentions, there is a subtle and brave performance from Andrews. The woman who is murdered is named Laura, and the social world that revolves around her is explored in depth as much as her life. She rises through the advertising world and finds herself on the arm of the effeminate and lavish Waldo Lydecker (Webb). Detective McPherson shifts though her world and her beaus in order to find her killer, but in a weird twist it becomes a case of cat and mouse as they wait out the next victim. This film is made up of iconic performances from Gene Tierney, Clifton Webb, Dana Andrews, and a very young and wet behind the ears Vincent Price. It's a very chilling and well-paced thriller that not only builds suspense with a well-chosen villain, a thoroughly invigorating plot, supporting characters that are both interesting and significant to the story. These characters are mostly seen through the scope of the detective, the everyman and slight gumshoe. They're elitist and cultured, especially when it comes to the very talented and distinguished Lydecker, and the group's opinions of the case and the sweet Laura are oftentimes candid and yet regal. Laura herself is an enigmatic and keen creature that is portrayed well by Gene Tierney and though beloved by the men around her, she is not shown as a slinky sex kitten nor a glowing goddess, but a humble and yet spunky reporter turned socialite. Every character, every performance proves that this film is about the actors, and they make this film beyond enjoyable.
Spencer S.
Super Reviewer
Laura Quotes
| | |
| --- | --- |
| Waldo Lydecker: | Goodbye, Laura. Goodbye... my Love. |
| | |
| --- | --- |
| Ann Treadwell: | Shelby's better for me. |
| Laura Hunt: | Why? |
| Ann Treadwell: | [while applying lipstick] Cuz I can afford him, and understand him. He's no good but he's what I want. I'm not a nice person Laura, and neither is he. He knows I know he's - just what he is. He also knows that I don't care. We belong together because we're both weak and can't seem to help it. That's why I know he's capable of murder; he's like me. |
| Ann Treadwell: | Cause I can afford him, and understand him. He's no good but he's what I want. I'm not a nice person Laura, and neither is he. He knows I know he's - just what he is. He also knows that I don't care. We belong together because we're both weak and can't seem to help it. That's why I know he's capable of murder; he's like me. |
| | |
| --- | --- |
| Shelby Carpenter: | I've spent very little time in observing my own character, Mr. McPherson. |
| | |
| --- | --- |
| Shelby Carpenter: | But Lieutenant I don't understand. You sent for me didn't you? |