Legend
(1985)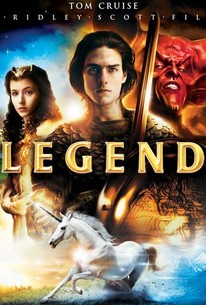 TOMATOMETER
AUDIENCE SCORE
Critic Consensus: Not even Ridley Scott's gorgeously realized set pieces can save Legend from its own tawdry tale -- though it may be serviceable for those simply looking for fantasy eye candy.
Movie Info
A peasant hero battles a demonic underworld prince who seeks to plunge the world into an ice age. When the evil prince captures a fair maiden, the hero rallies an army of elves to save her, and defeat his diabolical foe once and for all.
Critic Reviews for Legend
Audience Reviews for Legend
½
Ridley Scott's 1980s fantasy epic brings a lot of cheese and kitsch into the genre, which is also the aspect of the film that didn't age that well. The make-up effects and production design hold up really well after all those years, you gotta admit that the magic forest as it is shown here has more atmosphere and depth than in most fantasy films of the 90s. The movie's biggest asset, apart from seeing Tom Cruise taking his first big screen steps, is Tim Curry in his mask as the lord of Darkness. He gets more acting across with his eyes and evil laughter than other actors throughout their whole career. If only he had more screen time and there was less cheese and random weirdness, this would be a highlight of the genre. As it is, it still works as a guilty pleasure for a cold winter afternoon.
½
Fantastic sets, costumes and relatively good acting do not make up for the silliness of the plot in this 1980s teen-boy fantasy flick. It's fun to see Cruise breaking into the major Hollywood ranks, be fore the embarrassing couch-jumping incident, but in the end, it's still Cruise and his skin-deep acting. Marginal fun, but this is one Legend that deserves to be forgotten.
Christian C
Super Reviewer
½
Growing up, "Legend" was one of my absolute favorite movies. The story, the images, and especially the amazing makeup job of Darkness just did for me what few films did. It's the story of good versus evil in a fairy tale setting. Darkness(Tim Curry) uses a Princess named Lili to lead him to and help weaken two unicorns. Once the unicorns are dead, he can plunge the world into a never ending ice age. However, Jack(Tom Cruise) teams up with elves and fairies to rescue Lili and destroy Darkness forever. May think a movie with fairies is gay, well screw you, this movie is freaking awesome. It holds up amazingly well, especially in high definition. Looks like it was made this year(well some of the scenes are dated, but overall it looks amazing). Darkness is probably the absolute coolest looking villain in movie history. As a kid he was absolutely terrifying to watch. Ridley Scott wrote and directed this and he did an amazing job, and proves again he is one of the best directors ever. If you want to introduce your kids to a great fantasy movie, then I would say start with this. I cannot wait to share this with my son as he gets older.
Everett Johnson
Super Reviewer
Legend Quotes
| | |
| --- | --- |
| Jack: | You don't really plan on eating me, do you? |
| Meg Mucklebones: | Oh, indeed I do! Hahahahaha! |
| Meg Mucklebones: | Oh, indeed I do! Haha! |
| | |
| --- | --- |
| Darkness: | What is light without dark? What are you without me? I am a part of you all. You can never defeat me. We are brothers eternal! |
| | |
| --- | --- |
| Darkness: | Oh, Mother Night! Fold your dark arms about me. Protect me in your black embrace. I sit alone, an impotent exile, whilst this form, this presence, returns to torment me! |
| | |
| --- | --- |
| Blunder: | She was so sweet I could eat her brains like jam. |
| Pox: | I could suck her bones...! |
| Pox: | I could suck her bones! |