The Little Princess
(1939)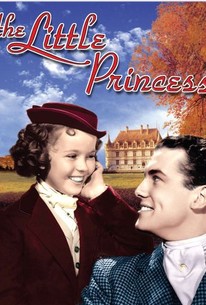 The Little Princess Photos
Movie Info
Shirley Temple's first Technicolor feature, The Little Princess was inspired by the oft-filmed novel by Frances Hodgson Burnett. Set in turn-of-the-century England, the film finds Temple being enrolled in a boarding school by her wealthy widowed father (Ian Hunter), who must head off to fight in the Boer War. At first, Temple is treated like royalty; her behavior couldn't be more down to earth, but this preferential treatment foments resentment. When her father is reported killed in the war, circumstances are severely altered. The spiteful headmistress (Mary Nash) relegates Temple to servant status and forces the girl to sleep in a drafty attic. She keeps her spirits up by hoping against hope that her father will return, and to that end she haunts the corridors of a nearby military hospital. Queen Victoria doesn't have to make a guest appearance in the tearfully joyous closing sequence, but it does serve as icing on the cake to this, one of Temple's most enjoyable feature films. Reliable Shirley Temple flick supporting actors Cesar Romero and Arthur Treacher are back in harness in The Little Princess, while adult leading lady Anita Louise figures prominently in a sugary dream sequence.
Critic Reviews for The Little Princess
Audience Reviews for The Little Princess
½
A Technicolor-bright addition into the Shirley Temple canon, this concerns a rich girl dropped into poverty due to the death of her father. Temple's role is focused on her stubborn contention, without any verifiable proof, that her father is alive. The rest of the cast, in differing degrees, either support or oppose her, and this dynamic drives the work. Although obviously predictable, still this remains a lighthearted children's film that is creative in it"s resolution.
Kevin M. Williams
Super Reviewer
I read the book when I was a kid, and saw the remake, and this movie was pretty good too. It could have been better, though.
½
Shirley Temple plays a rich girl in an exclusive boarding school, whose father is suddenly killed in the British War. She becomes a pauper and the hateful headmistress has her stripped of all privileges and forces her to work in the kitchen to earn her keep. Temple refuses to believe her father is dead and searches the hospitals for him where she encounters Queen Victoria.
The Little Princess Quotes
There are no approved quotes yet for this movie.