Little Women
(1949)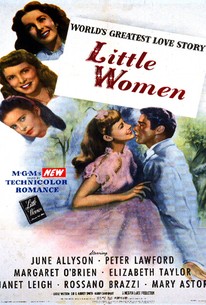 Movie Info
Of the many film versions of Louisa May Alcott's Little Women, this 1949 MGM adaptation is by far the prettiest. Set in New England during the Civil War, the film relates the various adventures of the March sisters: Jo (June Allyson), Beth (Margaret O'Brien), Amy (Elizabeth Taylor) and Meg (Janet Leigh). Jo emerges as the main character, as she leaves hearth and home to try her luck as a novelist in New York. Moments of high comedy (the sisters' amateur theatricals) are counterpointed with grim tragedy (the death of the youngest March girl), with romantic interludes provided by the faithless Laurie (Peter Lawford) and the loyal Professor Bhaer (Rossano Brazzi). Unlike Selznick's 1933 Little Women or Gillian Armstrong's 1994 adaptation, this 1949 version tends to be more an extension of the old Hollywood contract-player typecasting system than a heartfelt evocation of the Alcott original. Even so, Little Women is consistently pleasing to the eye, especially when seen in its original Technicolor hues.
Critic Reviews for Little Women
Audience Reviews for Little Women
Bandbox pretty version of the Louisa May Alcott classic while not the definitive rendering of the story is still a very enjoyable film. All the lead actresses are really too old for their parts except maybe Janet Leigh but they make a good try. Elizabeth Taylor has Amy's flightiness down pat and June is scrappy as Jo while Mary Astor is effective as that tower of strength Marmee. Lucile Watson swoops in from time to time and steals scenes as that keening shrew Aunt March.
Little women are about 4 women that grew up in the Civil War period. They were face with hardships like having their father off fighting in the war, being poor and being teenaged. When a new boy moves in next door the girl's world turns up side town. Over time they had to learn ho to deal with news things of growing up like falling in love and that they cannot live together under their parents house forever. Pros Good acting and plot. It had good music in this film. This film is really moving. Con it can be slow some times If you like coming age films, click flicks or really moving films, you should give this a try.
erika bruhns
Super Reviewer
½
This is kind of an all-star cast, to different effect. I felt like every sister had her own personality, and weirdly enough my favorite character in this one is Beth (though I hated her in the book). It's because Margaret O'Brien is really precious.
Jennifer Xu
Super Reviewer
Little Women Quotes
There are no approved quotes yet for this movie.