Lust for Life
(1956)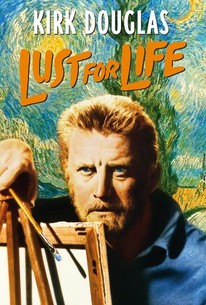 Movie Info
The troubled life of famed painter Vincent Van Gogh is the subject of Vincent Minnelli's adaptation of Irving Stone's fictionalized biography. Kirk Douglas stars as the Dutch painter, who endured a life of squalor and hardship for the sake of his art, which went virtually unnoticed in his own time.
Critic Reviews for Lust for Life
Audience Reviews for Lust for Life
Vincent Van Gogh struggles with mental illness on his path to becoming a renowned artist. Kirk Douglas could be a perfect Vincent Van Gogh, able to reach the emotional depths of the character and charismatic enough to be a believable tortured artist, but this film is poorly structured and statically directed. The film's structure doesn't give us a central conflict: what stands in Van Gogh's way? What is the nature of his mental illness, if that's what it is? What makes him a good artist but a malcontented person? Additionally, Vincente Minnelli's camera never moves. He sets the camera on a tripod in a studio with an obviously painted background behind the action. It's filmmaking stuck in the early days of Hollywood, and it doesn't give us the chance to see all that Douglas's performance could offer. Overall, there is a lot of potential in this film, but it's sadly unfulfilled.
Jim Hunter
Super Reviewer
½
Fantastic as classic movies get. Well acted, well scripted, shot vibrantly and as impressionable in memory as films go as van Gogh's paintings spinning a classic tale of human drama that is moving, meditative, endearing and fulfilling of the heart.
Adriel Lim
Super Reviewer
½
Pretty to look at? You betcha! Its about Dutch painter numero uno, duh. Informative? Are you kiddin'? Did you know a lot of famous artists hung out in Paris? Yep. So why's this fail to connect? Kirk is there, wringin' his hands every chance he gets. Quinn is there, and he's not happy about the hand wringin'. So wat happened? I think the subject matter spooked the makers ...
Kevin M. Williams
Super Reviewer
Lust for Life Quotes
There are no approved quotes yet for this movie.