M
(1931)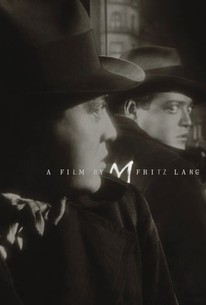 TOMATOMETER
AUDIENCE SCORE
Critic Consensus: A landmark psychological thriller with arresting images, deep thoughts on modern society, and Peter Lorre in his finest performance.
Movie Info
Fritz Lang's classic early talkie crime melodrama is set in 1931 Berlin. The police are anxious to capture an elusive child murderer (Peter Lorre), and they begin rounding up every criminal in town. The underworld leaders decide to take the heat off their activities by catching the child killer themselves. Once the killer is fingered, he is marked with the letter "M" chalked on his back. He is tracked down and captured by the combined forces of the Berlin criminal community, who put him on trial for his life in a kangaroo court. The killer pleads for mercy, whining that he can't control his homicidal instincts. The police close in and rescue the killer from the underworld so that he can stand trial again in "respectable" circumstances. Some prints of the film end with a caution to the audience to watch after their children more carefully. Filmed in Germany, M was the film that solidified Fritz Lang's reputation with American audiences, and it also made a star out of Peter Lorre (previously a specialist in comedy roles!). M was remade by Hollywood in 1951, with David Wayne giving a serviceable performance as the killer. ~ Hal Erickson, Rovi
Audience Reviews for M
½
Fritz Lang crafts a stunning work of dramatic thrills with his 1931 film M. This being his first talkie after years of making silent films, Lang's direction is superb, and this is a film that is tense, and engaging from the moment it starts. The story is very good, and it has enough effective moments to really grab your attention. This is a picture that for its time delivered something that had never been seen before. Beautifully directed and acted, M is a near perfect picture that broke barriers in the way films told stories. With effective, memorable performances, Fritz Lang has crafted one of the most impressive classic films that I have seen it ranks as a film classic that raised the bar in storytelling and it did this at a time where it was almost taboo to tell a story like this. M is a stunning picture well worth your time, and it's a fine foreign film, and it ranks as a masterpiece of cinema as well. I've only seen Lang's Metropolis beforehand, and is a director who can craft thoroughly engaging picture with very interesting concepts and ideas. Metropolis was extremely ambitious in its ideas, but with M he took a step back and focused on a simpler story, and the result is a stunning piece of cinema that is thrilling from the moment it starts. If you enjoy every aspect of film, then you're going to enjoy this picture. The film stands out because Fritz Lang pushed the boundaries of what you could do with a story, and he is a pioneer in doing so, and M resonates because of it. Overall this is a near perfect movie that is one of the finest film classics that you can watch. With brilliant direction and effective performances, M is a superb picture that helped shape cinema for many years to come.
Hans Beckert: What do you know about it? Who are you anyway? Who are you? Criminals? Are you proud of yourselves? Proud of breaking safes or cheating at cards? Things you could just as well keep your fingers off. You wouldn't need to do all that if you'd learn a proper trade or if you'd work. If you weren't a bunch of lazy bastards. But I... I can't help myself! I have no control over this, this evil thing inside of me, the fire, the voices, the torment! M was the first talkie from Fritz Lang and it still stands up as one of his best films and quite possibly his best talkie. There's a ton of social issues, especially involving the whole pleading insanity thing. A child murderer is walking the streets and the police, despite their hardest efforts are having absolutely no luck in catching him. They follow every lead and scour the underworld looking for him. This begins to anger the underworld and the criminals that use it. Police are constantly showing up and escorting them to headquarters. Still, they can't find their man. The criminal underworld, with help from the beggars decide to take it upon themselves to find the killer and bring him to justice. M is a masterpiece. A film that is now over 80 years old and still maintains all of its power. Also, all the themes of this film are still perfectly relevant in todays world and will probably always be. Peter Lorre gives a terrific performance, embodying both the evil child killer and the victim of insanity because he can't help what he does. M is a film for fans of noir style films, Lang, and filmmaking in general. This is one of those movies that must be seen once by all film buffs. Not to be missed.
Melvin White
Super Reviewer
A meticulously crafted German crime-drama. Peter Lorre's performance is haunting and inspired, and only complements the sharp screenplay, complex story arc and incisive social commentary.
Kristijonas Fussman
Super Reviewer
M Quotes
There are no approved quotes yet for this movie.