The Magnificent Ambersons
(1942)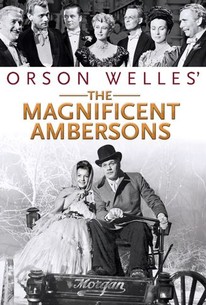 TOMATOMETER
AUDIENCE SCORE
Critic Consensus: Assembled with bold visual craft and penetrating insight, The Magnificent Ambersons further establishes writer-director Orson Welles as a generational talent.
The Magnificent Ambersons Photos
Movie Info
Orson Welles' followup to Citizen Kane (1941) was utterly different from Kane in style and texture, but just as brilliant in its own way. Writer/director Welles does not appear on camera, but his voiceover narration superbly sets the stage for the movie's action, which fades in valentine fashion on Amberson Mansion, the most ostentatious dwelling in all of turn-of-century Indianapolis. Its mistress is the haughtily beautiful Isabel Amberson (Dolores Costello). When Isabel's beau, erstwhile inventor Eugene Morgan (Joseph Cotten), inadvertently humiliates her in public, she breaks off the relationship and marries colorless Wilbur Minafer (Donald Dillaway). The neighbors are certain that, since Isabel can't possibly love Wilbur, she will spoil her children rotten. As it turns out, she has one child, George Minafer (Tim Holt), and that one is enough as far as the rest of Indianapolis is concerned. There are those who live for the day that the arrogant, insufferable George will get his comeuppance. When George returns home from college, his mother and grandfather (Richard Bennett) hold a gala reception in his honor. Among the guests is the older-and-wiser Eugene, now a prosperous automobile manufacturer, and his pretty daughter Lucy (Anne Baxter). George takes to Lucy immediately, but can't warm up to Eugene, especially after learning from his uncle Jack Amberson (Ray Collins) and his maiden aunt Fanny (Agnes Moorehead) that Eugene and Isabel had once been sweethearts. After the death of Wilbur Minafer, the widowed Eugene feels emboldened enough to propose to Isabel again. This time she is willing, but the obstreperous George refuses to allow his mother to see Eugene. His imperious bullheadedness will lead to tragedy for all concerned--and, at long last, a chastened George Minafer will indeed receive his comeuppance. The film's real villain is not George but that old intangible bugaboo called "Progress." As the automobile age comes to fruition, the elegant, cloistered lifestyle of the Ambersons fades from view, finally disappearing altogether. This is superbly foreshadowed in the "winter outing" sequence (filmed in an L.A. icehouse) in which George's two-horse sleigh is abandoned in favor of Eugene's clunky horseless carriage. Welles evokes performances that his actors seldom (if ever) matched in later years; even the very limited Tim Holt is wholly believable-and even a bit pitiable-as the blinkered George Amberson Minafer. The current version, however, is but a pale shadow of Welles' original concept. Out of time and overbudget, the movie previewed badly and was eventually sliced down to an abrupt 88 minutes (by, among others, editor Robert Wise, who would go on to direct such films as West Side Story and The Sound of Music). Even though the film therefore must be regarded as a marred masterpiece, the remaining two-thirds of Welles' original concept is still a thrilling cinematic experience, especially whenever Agnes Moorehead is on the screen. ~ Hal Erickson, Rovi
News & Interviews for The Magnificent Ambersons
Critic Reviews for The Magnificent Ambersons
Audience Reviews for The Magnificent Ambersons
½
Orson Welles was reportedly furious when this film was cut to smithereens by his studio, and his editor, Robert Wise, while he was elsewhere, filming in South America. He believed that this could have been better than "Citizen Kane," his magnum opus. While it's hard to be conclusive in that assessment, I can say that this film is just as big and concrete as his first. This film too looks at the lives of people through many years, and shows their transformations from idle youths to confident adults. The Amberson family members are comprised of a group of fascinating individuals who each want things they apparently can't have. The Industrial Revolution's evolution of technology leads to the family's undoing, as their neighbor's wealth grows and theirs' dwindles. Their matriarch and patriarch fall, the aunt and nephew often struggle against each other on escalating levels of cruelty, and relationships suffer for it. It's a beautiful film that obviously could have been much bigger, much darker in its take on the family. Sadly the original rough cut of the film was destroyed by the studio, probably to keep megalomaniac Welles from putting his film back together. This is an amazing addition to Welles' canon and is beautiful in both scope and story.
Spencer S.
Super Reviewer
½
That staircase. After watching The Magnificent Ambersons, I'm still struck by the staircase of the Amberson mansion. Director Orson Welles somehow gives the impression the staircase winds up story after story, hundreds of feet into the rafters, and without a window to be found. The Ambersons live in this mansion of nitemares, all shadows and endless, winding stairs. The Ambersons are a family of great Shakespearean tragedy. Eugene (Joseph Cotten) and Isabel (Dolores Costello) are sweethearts until Eugene embarrasses himself (when coming to serenade Isabel, he accidentally trips and smashes his bass fiddle) and becomes the laughing stock of the town. Isabel can't settle for any imperfection as she's the daughter of a very important family. She chooses security over love, and marries a plain but well off businessman. When their child comes, he's spoiled horribly, and grows into an even more obnoxious adult. Meanwhile, Eugene has returned to his hometown a successful car manufacturer, recently widowed and with a beautiful daughter. Isabel's son, George (Tim Holt) falls in love with Eugene's daughter, or at least what passes for love in someone so self-absorbed and egotistical. Eugene and Isabel strike up where they left off, much to the envy of the jealous Aunt Fanny (Agnes Moorehead). Fanny schemes to convince George to intervene in the newly re-burgeoning relationship between Eugene and his mother, and the results are tragic for all involved. Aunt Fanny and George are a pair of lost souls, George especially is filled with impudence yet doesn't really understand why things happen around him the way they do, only that they don't happen the way he wishes. Visually, there aren't alot of films as stunning and on as many different levels as this. It's a unique vision and just about as daring a film (visually) as has ever been made. Welles original edit of the film has been lost and bastardized through the years, and the film's final tone of forgiveness rings somewhat at odds with the rest of the film's general feel. However unfortunate this situation may be, it matters little when every frame of the Magnificent Ambersons is a work of art in it's own right.
Devon Bott
Super Reviewer
I'd love to Welles' actual version of this, becuase this pretty boring.
Tim Salmons
Super Reviewer
The Magnificent Ambersons Quotes
There are no approved quotes yet for this movie.