The Magnificent Seven
(1960)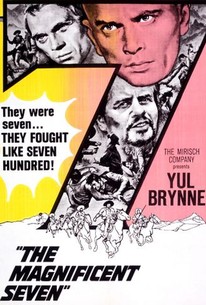 TOMATOMETER
AUDIENCE SCORE
Critic Consensus: The Magnificent Seven transplants Seven Samurai into the Old West with a terrific cast of Hollywood stars -- and without losing any of the story's thematic richness.
The Magnificent Seven Videos
The Magnificent Seven Photos
Movie Info
A Mexican village is being terrorized by the bandit Calvera (Eli Wallach) and his gun blazing goons. Seven American mercenaries are hired to protect the village. The group trains the townsfolk in gunplay as a trap is set for Calvera. The bandits suffer casualties after a raid, but they regroup to capture the seven gunmen. Yul Brenner, Steve McQueen, Charles Bronson, Robert Vaughn, Horst Buchholz, James Coburn and Brad Dexter star as the seven guns who must escape wrath of their captor Calvera. The story is taken from the Japanese film "Seven Samurai" which served as a blueprint for this near classic Western saga.
Critic Reviews for The Magnificent Seven
Audience Reviews for The Magnificent Seven
Whether or not a film is remade or just simply takes place within the same genre, people come to expect certain things when seeing a familiar storyline. Nowadays, people complain that there are far too many remakes of classic films, but what they don't realize is that there are quite a few remakes from the past as well. Today for example, the Swedish horror film Let the Right One In is released, only to be remade a year or so later as an American film, retitled Let Me In. This has been done since the very beginning of cinema. With that on the table, 1960's The Magnificent Seven followed directly in the footsteps of the 1954 Japanese samurai film, Seven Samurai. Did it improve on anything that the Akira Kurosawa version failed to achieve? Lets talk The Magnificent Seven (1960). Following the events from Akira Kurosawa's 1954 masterpiece, it was already clear there was a high bar to match. Although I did not try to see the differences throughout this version, it was very hard to ignore the fact that there are some lines of dialogue literally delivered verbatim. The film begins with a group of bandits who threaten to return to terrorize the town if they do not have their food handed over to them upon their return. Therein lying the issue, a group of seven horsemen/gunmen are recruited to take down these bandits upon their return. It is a very simple story with great characters. That is almost exactly what my description was for Kurosawa's Seven Samurai, which is both a good and bad thing in my opinion. This film utilizes everything that made the original Japanese film a masterpiece, but also trims off about 80 minutes of story. Although I had no complaints about the original telling of this story, The Magnificent Seven was able to trim off about 80 minutes from the original story, making for a much smoother film experience. That being said, the character development in Seven Samurai was much deeper, so for every positive, I also found a negative. On the bright side, watching men laugh over drinks, fire guns, and ride horses for the majority of the film is much more exciting then watching a ten minute scene of two samurai warriors talking about the future battle. That being said, Seven Samurai also utilized those scenes in a way that sucked its audience into every line of dialogue being spoken. While The Magnificent Seven does have a lot of great character moments, it tries to introduce new characters as the film progresses and you really only find yourself latching onto two of the main characters. Worth every minute of waiting through set-ups and promises, The Magnificent Seven delivers, without a doubt, one of the most exciting shootouts in any western that I have seen. No, it doesn't live up to classic moments like that of The Good he Bad and the Ugly, but I am not trying to compare classics here. Sitting through every great character arc and moment of redemption, you feel a sense of fulfillment once the final battle occurs. There is so much excitement to be had while watching this picture, and for any western fan, there really is not much more you could have asked for at the time. In the end, 1960's The Magnificent Seven is a well-made western picture, that without the original Japanese version, would not have been made. For that reason alone, I have to dock a few points. Does this film deliver fantastic and loveable characters? Absolutely. Does it deliver on awesome shootout sequences? You bet it does. Does it feel far too similar with not enough differences to Seven Samurai? Sadly, that is also a glaring yes. Still, being a fan of the western genre, I can say that much care and time was put into the making of this film and it shows in the final product. There are a few cheesy lines and performances throughout, making it hold up even less than its Japanese version, but it is still a great watch after all these years nonetheless. The 1960 version of The Magnificent Seven is pure western entertainment. Recommended to any fans of this genre.
Yul Brynner leads an all star cast as seven gunman are hired to defend a tiny farming villages from los banditos locos. There's no money to be had while facing impossible odds, so why do it? Why risk your life? The film gives us reason to care about the answer in what many consider one of the great Westerns.
Kevin M. Williams
Super Reviewer
An entertaining Western remake of Kurosawa's samurai classic and, like that film, more concerned with developing its characters and letting them grown on us instead of just focusing on the battle, while the great cast and Bernstein's score make it epic and unforgettable.
Carlos Magalhães
Super Reviewer
The Magnificent Seven Quotes
| | |
| --- | --- |
| Calvera: | Generosity... that was my first mistake. I leave these people a little bit extra, and then they hire these men to make trouble. It shows you, sooner or later, you must answer for every good deed. |
| | |
| --- | --- |
| Chris: | Only the farmers won. We lost. We always lose. |
| | |
| --- | --- |
| Vin: | Fella I once knew in El Paso, one day he took all his clothes off and jumped in a mess of cactus. I asked him the same question, why? He said it seemed to be a good idea at the time. |
| | |
| --- | --- |
| Vin: | "It seemed like a good idea at the time." "So far so good." |
| Vin: | It seemed like a good idea at the time. So far so good. |