A Man for All Seasons
(1966)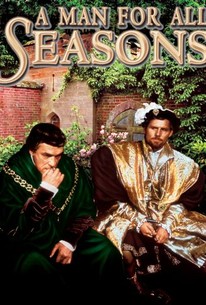 TOMATOMETER
AUDIENCE SCORE
Critic Consensus: Solid cinematography and enjoyable performances from Paul Scofield and Robert Shaw add a spark to this deliberately paced adaptation of the Robert Bolt play.
A Man for All Seasons Videos
A Man for All Seasons Photos
Movie Info
Adapted by Robert Bolt and Constance Willis from Bolt's hit stage play, A Man for All Seasons stars Paul Scofield, triumphantly repeating his stage role as Sir Thomas More. The crux of the film is the staunchly Catholic More's refusal to acknowledge King Henry VIII (Robert Shaw)'s break from the church to divorce his first wife and marry Anne Boleyn (an unbilled Vanessa Redgrave). Sir Thomas willingly goes to the chopping block rather than sacrifice his ideals. Director Fred Zinnemann retains the play's verbosity without sacrificing the film's strong sense of visuals. The impeccably chosen cast includes Wendy Hiller as Sir Thomas' likably contentious wife Alice, John Hurt as the deceitful Richard Rich (More's put-downs of this despicable character provide some of the film's biggest laughs), Orson Welles as a dour Cardinal Woolsey, Leo McKern as the ambitious Thomas Cromwell, and Susannah York as More's daughter Margaret. The "Common Man," an important bridging-the-scenes character in the original play, is removed from the film version, which does just fine without him. A Man for All Seasons won six Oscars, including Best Picture, Best Director, and Best Actor, as well as seven British Film Academy awards.
Critic Reviews for A Man for All Seasons
Audience Reviews for A Man for All Seasons
This is a film based on a play based on the true life story of Sir Thomas More, a staunch Catholic who was so firm in his convictions, that he became a martyr for refusing to compromise his beliefs by signing an agreement that would recognize King Henry VIII's marriage to Anne Boleyn. It makes sense that this stroy was an adaptation of a play since it is besaically stage and executed like one for basically the entire running time. This is a historical drama (which the Academy loves), so it makes sense also that this won some of the Big Awards, including Best Picture. I do love historicla movies, but this is one of those cases where a film that's feverishly historically accurate doesn't always mean it's going to be an enjoyable one...at least not for those looking for something with mainstream appeal and accessibility. There's basically no action, and it's almost entirely a philosophical discussion/character study about two vastly dfifferent men with extremely clashing views/personalities. I dug it for the most part, but admittedly did find it hard to sit through and kinda boring here and there. Still though, you gotta give a lot of credit to it for the stellar cinematography, art direction, set design, and costumes. The attention to period details and historical accuracy are also to be appluaded, but it probably couldn't have hurt to put in some more action or somehting just to liven things up on occasion. The direction is okay, but Zinnemann has done far better work. The writing is quite sharp and really nails the characters and subject matter, but what really sells the film are the performances. Paul Scofield reprises his role from the play, and rightfully earned an Oscar for his superb work. Robvert Shaw was awesome as Henry VIII, and he's definitely an actor worth checking out if all you know of him is his brilliant work in Jaws. Other notables in the cast invlude Vanessa Redgrave as Anne Boleyn, John Hurt as Richasrd RIch, and Orson Welles, whose turn as Cardinal Wolsey is terrific just ofr the sheer fact that it's cool to see him rocking the always photogenic Cardinal robes. This is a hard film to get into, and more for the patient intellectuals than those who like action oriented history based works, but it's got some great themes and materia lworth discussing, so all in all, it's a fine film, but not one I would necessarily say is totally deserving of Best Picture.
Chris Weber
Super Reviewer
½
I saw this play as a kid--I was raised Catholic, so this was seen as the triumph of a martyr for his faith--and saw just last night again on DVD. It's probably one of those stories (like Anna Karenina) that it's interesting to view at different stages of your life. So, now as a mature woman, I saw the story as that of a man who is steadfast in his refusal to change while the winds of change blow him off his pedestal. I saw loyalty to a corrupt church: but as he says, the Catholic church was the only one with a pedigree from JC. His son-in-law was adamant that he destroy everything corrupt, not realising as I do with the advantage of advanced years hahaha, that man is corrupt and killing a few doesn't change corruption, it just changes the names of the people in charge. The final question is what are you willing to die for, remembering of course that the life span was a lot shorter then. The questions the story of Thomas Moore raises are complex and the answers not easily apparent and I think it might be good for youngins to view it as a way into the complex ideas of life now--nothing is black and white.
Bathsheba Monk
Super Reviewer
With lawerly integrity, Sir Thomas More poltiely defies Henry VIII's increasingly threatening demands that he publically approve of Henry's divorce and break with the Roman Catholic Church. Released in 1966, More's principled, moving and fatal civil disobedience struck a universal chord and made this intricate character driven historical costume drama a surprise hit.
A Man for All Seasons Quotes
| | |
| --- | --- |
| Thomas More: | I do none harm, I say none harm, I think none harm. And if this be not enough to keep a man alive, in good faith I long not to live. |
| | |
| --- | --- |
| Thomas More: | When Statesmen speak their own private conscience for the sake of their public duties they lead their country by a short route to chaos. |
| Thomas More: | When statesmen forsake their own private conscience for the sake of their public duties, they lead their country by a short route to chaos. |