The Man Who Came to Dinner
(1942)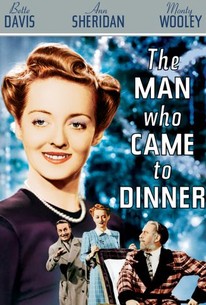 The Man Who Came to Dinner Photos
Movie Info
The George S. Kaufman/Moss Hart Broadway hit The Man Who Came to Dinner was inspired by the authors' mutual friend, waspish critic/author Alexander Woollcott. Generously bearded ex-Yale professor Monty Woolley, no mean curmudgeon himself, plays the Woollcott character, here rechristened Sheridan Whiteside. While on a lecture tour in Ohio, Whiteside slips on the ice outside his hosts' home; until his broken leg heals, the hosts (Grant Mitchell and Billie Burke) are forced to put up (and put up with) the imperious Whiteside. This means enduring an unending stream of Whiteside's whims, caprices and vitriolic bon mots, as well as his long-distance phone calls, eccentric guests and a variety of critters, ranging from penguins to octopi. Like the real Woollcott, Whiteside insists upon stage-managing the lives of everyone around him. He is particularly keen on discouraging a romance between his faithful secretary Maggie Cutler (top-billed Bette Davis) and local newspaper editor Bert Jefferson (Richard Travis). Once he realizes he's gone too far in this respect, Whiteside is forced to reunite the lovers. That's only one aspect of a three-ring-circus plotline that accommodates a Lizzie Bordenish axe murderess, takeoffs of Woollcott intimates Harpo Marx, Noel Coward and Gertrude Lawrence, and a general practitioner who's willing to let his patients suffer for a chance to pitch his interminable memoirs to Whiteside. Featured in the cast are Jimmy Durante as "Banjo" (the Harpo clone), Reginald Gardiner as the Noel Coward-like Beverly Carlton, Anne Sheridan as the predatory Gertrude Lawrence counterpart Lorraine Sheldon, and Mary Wickes as the long-suffering Nurse Preen ("You have the touch of a love-starved cobra!") The script, by the Epstein brothers, manages to retain most of the play's best lines and situations, even while expanding Bette Davis' role to justify her start status; it's a shame, though, that we are robbed of Sheridan Whiteside's imperishable opening line, "I may vomit!"
Critic Reviews for The Man Who Came to Dinner
Audience Reviews for The Man Who Came to Dinner
Regular folks run headlong into crazy eccentric celebrity when a radio star (Wooley,raucously unbridled) convalesces in small town Ohio. Ann Sheridan plays the bad girl, Bette Davis, and Bette Davis plays Ann Sheridan, the good girl, and then they fight ... talk about love!
Kevin M. Williams
Super Reviewer
A very funny movie, but I didn't get to see the end, I want to watch it again sometime.
½
When celebrity personality and generally unpleasant Sheridan Whiteside stops by to have dinner with a family of wealthy socialites and falls and hurts himself on their front steps, he winds up having to stay for far longer than just an evenings dinner and makes a great nuisance of himself. Mr. Whiteside's assistant (Bette Davis) winds up falling in love with the local newspaper reporter and the diabolical Whiteside tries to concoct a way to keep her in his employ. Based on the 1939 play by Kaufman and Hart, The Man Who Comes to Dinner is a biting look at the world of celebrity elitism, and is fairly relevant today. Monty Woolley plays Whiteside as a boss from hell, straight from The Devil Wears Prada, which I'm sure drew heavily from this film. Bette Davis and Ann Sheridan play against type, or that is they're playing each others roles, take your pick (Davis plays the sweet girl, Sheridan plays the tough broad). The appearance of Jimmy Durante is a bit of a surpise, contrasting the quick verbal exchanges earlier in the film for his schtick-loaded goofiness. Durante also takes the film in a hokey direction, plot-wise (Jimmy Durante is a very odd looking man that modern viewers might find off-putting). However, these are minor quibbles for a film that has nothing major going for it to begin with. It's not a terribly hilarious film, but it is amusing.
Devon Bott
Super Reviewer
The Man Who Came to Dinner Quotes
There are no approved quotes yet for this movie.