The Mark of Zorro
(1920)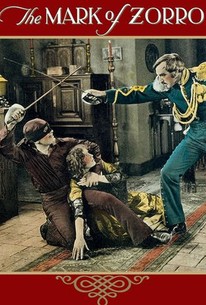 Movie Info
The apparently weak and silly offspring of a wealthy landowner in Southern California is actually the mask-wearing, sword-wielding character known as Zorro, scourge of the local oppressors. This first and most influential of screen adaptations from Johnston MacCulley's pulp tale features athletic Douglas Fairbanks in top form.
Critic Reviews for The Mark of Zorro
Audience Reviews for The Mark of Zorro
Apparently the plot device of having the lead act like a woman so that all can be surprised when we discover that he's the gallant hero as well is one hell of a lot older than I'd imagined (did Joe Campbell write about this trope?). Perhaps the best Zorro is just that for the acrobatics of its lead, the dashing Doug Fairbanks, who never saw a table he couldn't leap over/onto/or under. Its a silent film, yes, but the sheer dynamism of the man cannot be restrained by even the age of the film. The rest of the cast is serviceable, with De La Motte playing the love interest with equal parts demureness and spicy vixen-ity (?!). Its a fun film if unbelievable (as when he holds 20+ guys at bay with a single shot revolver!). Let yourself go.
Kevin M. Williams
Super Reviewer
1920's "The Mark of Zorro" may not have invented the superhero, but Douglas Fairbanks' performance in this role must've surely provided the inspiration for many of the costumed heroes to come in the following decades (I'm looking at you, Batman). Fairbanks not only handles the swash-buckling (that's a given), he hits just the right note with his secret identity, the effete Don Diego, son of a caballero and lover of all things gentle and safe. Don Diego saw that there was injustice towards the California natives by the tyrannical governor and watched while his fellow caballeros stood by and let it happen. To fight evil he becomes the masked avenger, Zorro. Meanwhile, his father wants him to court the lovely Lolita Pulido (Marquerite De La Motte) of the Pulido family, who have fallen on hard times. Don Diego courts her as both himself and as Zorro, to see which one she prefers, and if all she's interested in is his money. Zorro also has a secret lair with false panel intrances, and a mute indian servant who knows his secret identity (as I've said, he's the superhero archetype in many ways). The Mark of Zorro is quite action-packed in it's 105 minutes. Douglas Fairbanks is electrifying, as usual. He's not necessarily a terribly handsome man, but he's loaded with so much charisma he demands your attention. It's a great performance in a great action film from the silent era.
Devon Bott
Super Reviewer
This movie starts out kind of slow, but it gets better as it goes on. Fairbanks is good as Zorro, and does all his great stunts. I enjoyed this movie, it even has a bit of comedy here and there, a fun movie.
The Mark of Zorro Quotes
There are no approved quotes yet for this movie.