Marty
(1955)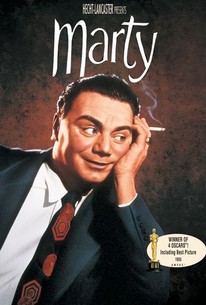 TOMATOMETER
AUDIENCE SCORE
Critic Consensus: Scriptwriter Paddy Chayefsky's solid dialogue is bolstered by strong performances from Ernest Borgnine and Betsy Blair in this appealingly low-key character study.
Movie Info
Paddy Chayefsky's Oscar-winning slice-of-life drama originated as a live 1953 broadcast directed by Delbert Mann on The Philco-Goodyear Television Playhouse starring Rod Steiger and Nancy Marchand. The Hecht-Lancaster movie version, also directed by Mann, replaces the two leads with Ernest Borgnine and Betsy Blair (as well as featuring several soon-to-be-familiar faces, including Jerry Paris, Frank Sutton, and Karen Steele, plus Joe Mantell, Nehemiah Persoff, and Betsy Palmer from the TV version). But it remains otherwise intact, telling of 24 very important hours in the lives of two lonely people. Marty is a bittersweet, sometimes funny, sometimes poignant, and always realistic comedy-drama about Marty Pilletti (Ernest Borgnine), a 34-year-old Bronx butcher. Approaching middle-age as a burly, somewhat overweight man who has no illusions about himself or his attractiveness to women, Marty looks forward to just one thing in life -- buying his boss's butcher shop and trying to make a success in business -- and he's even uncertain about that. A gentle, good-natured man, he lives with his mother (Esther Minciotti), a kind but emotionally smothering woman, in a too-large house and spends his time with a small circle of dead-end friends (Joe Mantell, Frank Sutton). One Friday night, Marty's mother convinces him to go to the Stardust Ballroom, where he meets a plain-looking schoolteacher named Clara (Betsy Blair), whose life appears to mirror his own -- she lives with her father, and is frightened about the one prospect she has for advancement in her job. Meeting her after witnessing a humiliating rejection by her blind date, Marty acts on his best impulses and asks Clara to dance, and soon they are actually enjoying each other's company. She is as drawn to him as he is to her, but both are so uncertain about putting themselves at risk emotionally, that the evening almost ends badly when he tries to kiss her -- but they agree to talk on the phone and go to a movie the next night. But whatever good feelings he has about Clara are soon threatened by his friends' put-downs of her, and his mother's hostility, driven by her sudden panic that if Marty marries, she'll be left living alone. Marty spends the next day alone and never does call Clara, seemingly having decided that it's best to leave well enough alone. That is, until he takes a good long look at his life, and a listen to his friends -- and he suddenly makes the decision to try for true happiness, wherever it leads.
Audience Reviews for Marty
Do you remember all of those movies in the 1990's about someone who didn't know what they wanted to be or where they wanted to go. There was an emphasis on just hanging out and killing time until the next day to start again or the work their way into the next weekend of killing time until Monday. Marty stands as the originator of this type of plot where a young man has stayed with his mother beyond his years and is just following the current that is life. The film stars Ernest Borgnine as the title character, a butcher who lives with his mother and hangs out with his buddies at night and on weekends. Even with all of these people in his life, Marty is lonely. He longs to be with a girl; a nice girl. As the film proceeds we follow Marty as he attempts to begin relationships with females that are mainly acquaintances, ships floating by in the dead of the night that you may wonder where they traveled after your encounter, but you'll never see them again. What happens next is the "when you least expect it" notion kicks in and Marty meets Clara (Betsy Blair) who he becomes enchanted with, even though Clara goes against the world that Marty has created for himself. Borgnine's performance is on par with some of the best work of the 1950's, going well beyond the norms of the era. When Marty is shot down, lonely, excited, you feel it in his performance. You come along on this ride with Marty and it is an emotional roller coaster. It's a portrayal that will stay with you long after seeing this film. It's a masterpiece of a performance that won Borgnine a well deserved Academy Award. Those feelings go hand in hand with what you feel as a viewer, particularly when Marty and Clara begin their courtship. You feel those feelings that a person experiences when they meet a person and they like that person, spending hours with them just talking or walking or whatever because it doesn't matter. You just want to be with that person. It's a hard feeling to describe and it is something that comes up when reminiscing about that first meeting, but it's a universal feeling that a person holds onto throughout the rest of their life. Marty captures that moment perfectly. I can't think of a film that displays that moment and those feelings like Marty does. Usually they end up in slapstick like blah. There is not gimmick or pratfall. This is just two people falling for each other. Marty is a best picture winner and coming from a time when epics and big names usually won the big prize Marty is a nice little breath of fresh air. It still holds the record as the shortest Best Picture.
Chris Garman
Super Reviewer
Paddy Chavefsky's script is a joy in this seemingly simple tale about two "ugly"people finding safe harbor in each other (there's even a hilarious minor side trip that critiques popular detective author Mickey Spillane!). Great performances throughout.
Kevin M. Williams
Super Reviewer
A lonely bachelor, socially tortured for being single, falls for a schoolteacher he meets at a dance hall. Ernest Borgnine, insecurities fully on display, gives a lovely, vulnerable performance in the titular role in this warm, positive film. The plot is fairly simple, but the film is tightly written and directed with no wasted time. I think what I enjoyed most about the film was Paddy Chayefsky's script. In my younger days, I had conversations with delightful young ladies that lasted the whole night, and while I can never remember what we talked about, I can often remember the feeling of connection and the joy of talking. Chayefsky's scenes in which Marty and Clara are meeting for the first time and getting to know each other seem natural and sweet, and he captures that feeling of connection in way that is true without sacrificing the need to keep the conversation interesting for the audience. Perhaps Richard Linklater watched this film while writing his Before films. Overall, this isn't a film that will set the world on fire, but it might warm a heart or two.
Jim Hunter
Super Reviewer
Marty Quotes
| | |
| --- | --- |
| Angie: | What do you feel like doing tonight? |
| Marty Pilletti: | I don?t know, Ange. What do you feel like doing? |