Mayerling
(1936)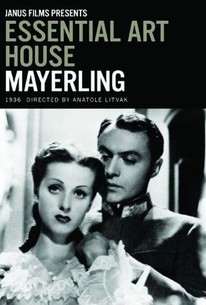 AUDIENCE SCORE
Critic Consensus: No consensus yet.
Movie Info
Based on Claude Anet's novel, Idol's End, this French film is based on the tragic real-life story of Hapsburg Crown Prince Rudolph and his mistress, Baroness Marie Vetsera. Since the details of Rudolph and Marie's lives and deaths are clouded in controversy, much of the film is romanticized speculation.
Critic Reviews for Mayerling
There are no critic reviews yet for Mayerling. Keep checking Rotten Tomatoes for updates!
Audience Reviews for Mayerling
For Emperor Franz-Joseph(Jean Dax), the last straw is his son and heir Archduke Rudolf(Charles Boyer) being arrested in a police sweep of suspected radicals. Putting his foot down, he arranges for his son to get married. On his fifth wedding anniversary, Rudolf spends it not with his wife, but parties with his friends instead. Still, life is not all fun and games as he bemoans the lack of interesting women in Vienna to his friend Szeps(Rene Bergeron), a newspaper editor. And that's when Maria(Danielle Darrieux) walks into his life. As much fun as they have together that evening, she does not realize who he really is until she spots him in the royal box at the ballet a few days later. One one level, "Mayerling" is the type of very moving romance that they simply do not make anymore.(Plus or minus a random left breast, that is.) But of deeper interest is the fact that this is based on a true story whose fidelity includes historical and political details of the period, including that none of the characters bat an eyelash that Maria is only 17. In reading about this specific incident online, I was more than a little surprised that it is possible that it kicked off a chain of events that changed world history, thus reinforcing the notion that however sympathetic Rudolf's plight might be, his actions were also extremely selfish in ignoring his duty to his country and family. But let's be honest, nobody could have predicted these once future events and aren't empires supposed to last forever, anyway?
Mayerling Quotes
There are no approved quotes yet for this movie.