The Mechanic
(1972)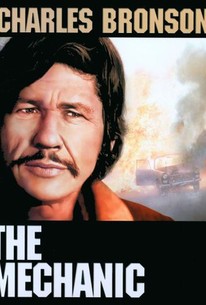 Movie Info
Arthur Bishop (played by Charles Bronson) is a bounty-hunter known as "the Mechanic." He teaches his trade to an apprentice (Jan-Michel Vincent) in a series of jobs that find them chased by rival killers.
Critic Reviews for The Mechanic
Audience Reviews for The Mechanic
½
The Mechanic is one of the best action films of the 1970's. Starring Charles Bronson as meticulous hit-man Arthur Bishop, The Mechanic is a brilliant, near flawless action picture that also is a portrait into the mind of a killer. A well crafted film that not only has a lot of action, the film shows the twisted, savage side of a killer. Charles Bronson is a cold hearted killer, and he is superb in his role. What makes Charles Bronson perfect for the part of Arthur Bishop is his chiseled tough guy looks, his voice and on screen demeanor, it's really hard to picture someone else in the role. Bronson was born to play such a role. The Mechanic is a mix of action, thriller, suspense and somewhat drama. But the film mostly plays out like an action thriller. The film is a near flawless film that is one of Charles Bronson's finest films. The Mechanic is a classic of the genre. This is a fine action film that has yet to to be topped. What separates this film from most action films is that The Mechanic is not only an action, but a character study into the mind of a killer, we get an idea how a professional killer acts and and carries out his deadly tasks. Not only that, but The Mechanic gives the audience one of the most memorable of all Charles Bronson's films. A well made action film, and one of the defining films of the genre.
½
Despite having some of the same trappings of other, similar films, what sets this 'hit man' film apart from the others is that it is at least trying for something more, something deeper besides action and violence. And, at times, it succeeds. This distinction is immediately noticeable during the opening sequence- 16 minutes free of dialogue that make the viewer pay attention to the details while still amping up the tension and suspense. It's a marvelous sequence, and a great way to get thigns going. I wish more films nowadays would try to strive for a bit of artistry and craft once in a while. The rest of the film is filled with bits of philosophy (namely existentialism) and high culture. The third act does descend into rousing action, but it is used as punctuation, and is earned as a way of highlighting what the rest of the film had been building up to. The pacing isn't snail-like, but this isn't a film for viewers who can't handle anything less than rapid cutting, fast editing, and movies that don't take the time to breathe. It's a very underrated film that has a very 70s feel to it. It deserves more attention, so you should definitely check it out.
Chris Weber
Super Reviewer
One of the best. A true highlight of both Michael Winner's and Charles Bronson's careers. Well-paced, well-written and tightly edited all the way to the abrupt and explosive ending. I absolutely love this film.
Tim Salmons
Super Reviewer
The Mechanic Quotes
There are no approved quotes yet for this movie.