The Men
(1950)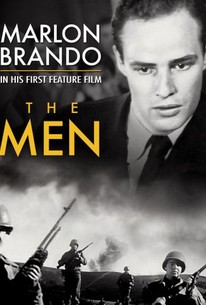 Movie Info
In his film debut, Marlon Brando plays Ken, a WWII vet paralyzed in combat. The tragedy leaves him embittered and despondent, and from his hospital bed he lashes out at the world, even turning away his girlfriend Ellen. Slowly, his doctor begins to penetrate the soldier's psyche.
Critic Reviews for The Men
Audience Reviews for The Men
½
"There's men, who play the game of life so well." "Man", forget that song; this film is older than either Paul McCartney's or Michael Jackson's career, although that reference still fits, because this film is a much bigger mix of black-and-white than "The Man". This film is so old that it was the feature debut of Marlon Brando... who was in the lead role, having to project the anguish of a crippled war veteran. Well, I reckon it's always been known how awesome Brando was, though not necessarily by moviegoers, because this film didn't make much money, which is completely shocking. I mean, seriously, who, not ten years after the end of WWII, wouldn't want to see a WWII veteran suffer horrible emotional and physical turmoil as he struggles to adjust himself to get back into society? Yeah, when you're wheelchair-bound, there's a big difference between being "Men" and "X-Men", although I am very appreciative of brutal realism, and yet, again, this was 1950, so I don't know just how brutally believable this film can get, no matter how hard Brando tries. Make no mistake, the film is decent, but it's not quite Marlon Brando awesome, because, like me, that guy who's into brutal realism, it has some problems. To be so short, with a runtime of just over 80 minutes, this film deals with a couple important characters and story branches, all of which are reasonably engaging, but feel excessive, due to the film's jarring between its layers in a feat of focal unevenness, deriving from some dragging in this brief, but somewhat steadily paced drama. Along the way, this film drags into its share of tropes, which include formulaic set pieces and dramatic progressions, and even character types, all of which seem to betray the potentially refreshing edge of this drama, particularly when they encompass of hint of melodrama that betrays the genuineness of this subject matter, and most of the storytelling. At the very least, director Fred Zinnemann makes the film feel rather melodramatic, by dousing the storytelling with a certain sentimentality that is admirable, and often effective, but seems to try too hard to compensate for a certain superficiality in this approach to heavy subject matter from 1950. The film's era and, on top of that, runtime of not quite an hour-and-a-half set boundaries for dramatic depth, and although this film works hard within those boundaries, there's something undercooked and safe about this portrait on paraplegia and post-war misfortune, and that reflects other superficialities in this narrative. The subject matter of this film is so weighty that a very rewarding drama could have somewhat easily been crafted, but with the superficializing of all of the dramatics, there's nothing especially grand about this perhaps overly intimate and brief affair. Don't get me wrong, the film is consistently enjoyable, and often so compelling that the final product comes very close to being richly rewarding, but at the end of the day, there's not much flare in concept, and when it comes to execution, issues in structure, originality, subtlety and depth finalize the final product as a little underwhelming. With that said, the film does a lot of things better than I expected, so much so that it almost transcends the shortcomings in the telling of a story concept that has its own shortcomings, though only so many. As I said, this film's story concept isn't especially broad in scale, relying largely on dramatic intimacies that would be a whole lot more effective if it wasn't for the conventions, histrionics and, of course, superficialities, yet still stand almost rich with potential, studying on the struggles of those coming to terms with paraplegia, and paying tribute to both the strength and human vulnerability of war veterans. There's a lot of heart in this film to either superficialize or overplay cloyingly, and when it comes to, at the very least, directorial storytelling, Fred Zinnemann gets a little sentimental, but he never loses some sense of inspiration, which keeps pacing tight enough to sustain a consistent degree of entertainment value, and which becomes passion and resonance once Zinnemann finds realization in his drawing upon Carl Foreman's scripting. Foreman does what he can with this subject matter, held back by limitations in the light-scale premise and of the time, and by his own missteps in structuring, but he still offers plenty of wit and solid dialogue to prove effective in lightening things up without superficializing dramatics more than the usual superficialities of the time already do, which isn't to say that there isn't a good deal of depth in the writing, or at least color, like in the characterization that is somewhat thin, but full of distinct characters who fit their respective roles charmingly, and present different angles in very human subject matter. The film tackles several character-driven branches as a very human drama, and although it often jars between its layers, there's something engaging about each character's side of the story, not simply because each role is distinguished, but because when there is, in fact, depth incorporated into the characterization, marking a bit of human edge that wasn't particularly common at the time, and is made all the more effective, even to this day, by the portrayers of the well-written characters. Essentially everyone focused on in this film delivers, probably more than this time period deserves with the lovely Teresa Wright, as the lover of a broken man who may ultimately be nothing but a burden, and the charismatic Everett Sloane, as a sympathetic, but stern and flawed doctor, prove to be convincing and sometimes dramatically moving, while just as much, if not more effectiveness is found in the wheelchair-bound performers, whether that be Richard Erdman as a man trying to make the best of his situation, or Jack Webb as a sharp, yet bitter realist, or Arthur Jurado as a hard-worker who tries his best to not like circumstances cloud his potential or good heart. Of course, the real revelation in this film is Marlon Brando, who, as the lead in his feature film debut, is given a rare honor that he does not squander, all but breaking ground in dramatic acting sensibilities of the time by subtly and emotionally projecting the hopes and frustrations of a man who gradually comes to terms with his terrible situation, but comes to find that he may continue to face struggles, within himself and among loved ones, for the rest of his life. Grief, intensity, anger, joy and passion are all showcased impeccably in the first powerful performance in a filmography that is rich with powerful performances, thus, Brando marks the peak in inspiration found on and off of the screen throughout this drama, and that's rather frustrating, because the final product doesn't quite make it to thoroughly rewarding, although it comes close enough to compel adequately and sometimes resonate. Bottom line, there's some surprising unevenness and dragging in this conventional, histrionic and sentimental drama whose briefness reflects a certain superficiality, in the dramatics and the narrative scale, thus, the final product falls as rather underwhelming, but by a hair, for there is enough value to this story concept, heart to the direction, with and extensiveness to the scripting, and effectiveness to an across-the-board solid cast that Marlon Brando stands out from to make Fred Zinnemann's "The Men" a frustratingly held back, but near-rewardingly compelling portrait on the struggles of the paraplegic. 2.75/5 - Decent
Cameron Johnson
Super Reviewer
½
It's hard for me to believe, but until recently I didn't know what Marlon Brando's first movie was. It was an innocuous but well-meaning film with a flat, artless title: "The Men." Directed by the Austrian-born Fred Zinnemann (who became world-famous a few years later with such films as "High Noon" and "From Here to Eternity"), "The Men" plays like a TV Movie of the Week focused on a contemporary social issue. The issue was the struggle of young World War II veterans to re-integrate into American society, particularly those who had lost a limb or were in wheelchairs. The war had only been over a few years (Germany and Japan surrendered in 1945), so this was a pressing current issue. Brando plays the lead character, a handsome, rugged young man laid low by a gunshot wound to the spine. Not only has he lost the ability to walk (and have intercourse, which is hinted at several times), he has lost the will to live. He chases his devoted girlfriend away (Teresa Wright) and sinks deeper into depression. Several things happen that do lead to change, and this is nice to see. But "The Men" never really takes off. It remains a fairly engaging but mediocre work of journalism. Brando is surprisingly subdued. Thank God he had the guts the following year to release the whirlwind inside him with "A Streetcar Named Desire," which changed cinema history and earned him his first Oscar nomination. (He lost to Humphrey Bogart in "The African Queen.")
William Dunmyer
Super Reviewer
Good drama examining the difficulties faced by men paralyzed in the WWII. Brando is very good here minus the method affectations that marred a great deal of his later work. He's ably abetted by Teresa Wright who gives a customarily low key and effective performance.
The Men Quotes
There are no approved quotes yet for this movie.