Meteor
(1979)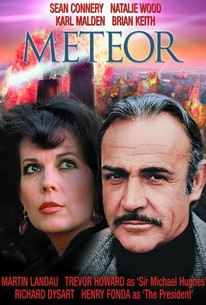 Movie Info
After a shower of meteors is discovered to be hurtling toward earth, an American scientist (Sean Connery) and his Soviet counterpart (Brian Keith) work together to save the planet, even after many places are destroyed. The film was Oscar-nominated for "Best Sound."
News & Interviews for Meteor
Critic Reviews for Meteor
Audience Reviews for Meteor
One of the last disaster movies of the 70s. It has some intense moments, but for the most part it's boring and the story is kinda silly too. Still, it's entertaining.
Junk with a good cast trying to breath some life into a tired script.
I had never heard of this movie before, it showed up as a suggestion when I looked up Dante's Peak. Godzilla is to Cloverfield as Meteor is to Armageddon. It's 1979 and the special effects are cutting edge at the time. They used scale models against space backdrops and really crude overlays and it looks very crude now but then I'm sure it was amazing. Sean Connery is a scientist for NASA and designed a weapon called Hercules to protect against possible catastrophes like this. The government decides to use it "illegally" to guard against nuclear attack from Russia. When a huge piece of asteroid is sent hurdling toward Earth the government calls on Connery to help them protect Earth, with an unlikely ally, to save the human race.
shane haley
Super Reviewer
Meteor Quotes
There are no approved quotes yet for this movie.