Metropolis
(1927)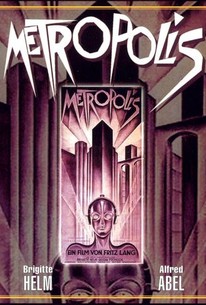 Movie Info
In a futuristic city sharply divided between the working class and the city planners, the son of the city's mastermind falls in love with a working class prophet who predicts the coming of a savior to mediate their differences.
Critic Reviews for Metropolis
Audience Reviews for Metropolis
The broad brush strokes Fritz Lang painted this masterpiece with actually work to give the casual intellectual consideration its timely weight even to this day. One of its many insights: that technology promising freedom will be used to further enslave the witless millions, rings clear and true even now. And the performance of Lang's leading lady, Brigitte Helm, is mesmerism itself!
Kevin M. Williams
Super Reviewer
½
Metropolis, once a sprawling epic drama of science-fiction, it shows its age today. The scope of great visual splendor and architecture are great, but are too few in between and only show in flashes of scenes amid-st a cacophony of a vague protagonist, a priestess character and collective enemy.
Adriel Lim
Super Reviewer
Dystopian Society films are one of the most interesting genres to tackle. Each film brings a portrait of a society that is unique in the way that it oppresses its citizens. George Orwell did it with his stunning masterpiece of literature 1984; Aldous Huxley did the same with Brave New World. However those two are novels, but these are two examples of such works. In film however, Dark City, Children of Men and A Clockwork Orange are three such examples of films that have stood out in the genre. However, one picture is one of the defining works, Fritz Lang's 1927 Science Fiction masterpiece Metropolis, which is a brilliant work on using dystopian concept to tell an engaging story. Using simple ideas, Lang's portrait of a society is sublime, poetic and ultimately nightmarish. Since this is a silent film, the visuals are what keeps you enthralled at Lang's portrait of this society. In terms of Science Fiction, Metropolis is a standout work of imagination, storytelling, and filmmaking. Lang's ideas are wonderful, and though the story here is simple, the sheer visuals, especially effects are what captures your attention, considering that this was made in the 20's, a relatively young time for cinema. The innovative film techniques used to create the film are truly wonderful, and the sets are brilliant, and it's exactly what you'd expect from a dystopian society. I've seen my fair shares of dystopian films, and read plenty of works, and Metropolis ranks as one of the genres finest achievements, not just in film, but in the dystopian genre as a whole, literary and film. The sheer vision that Fritz Lang has for his society is exactly how you'd expect a world like this to look. Would plenty of other films and books that has surfaced in the genre, it's no wonder that Metropolis has influenced many filmmakers and authors alike, upon watching this film, you see plenty of memorable images that have inspired their work. Metropolis is a work of brilliance because it presented new ideas, and stretched the boundaries of what you could do in the cinematic medium when little technology. I thought this was a stunning piece of cinema, and if you're on a quest to further your knowledge of great movies, I highly recommend that you watch the film. Even today, the film looks impressive because of the creativity that went into accomplishing such a feat in cinema.
Metropolis Quotes
| | |
| --- | --- |
| Joh Fredersen: | I must know! Where is my son?!!! |
| Slim: | Tomorrow, thousands will ask in fury and desperation: Joh Fredersen, where is my son! |
| | |
| --- | --- |
| Joh Fredersen: | Off where they belong... |
| Freder: | Of where they belong?...In the deeps? ...And if those in the deeps one day rise against you? |
| | |
| --- | --- |
| Maria/Robot: | The mediator of the head and the hands must be the heart. |