Mirage
(1965)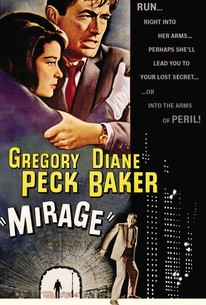 AUDIENCE SCORE
Critic Consensus: No consensus yet.
Movie Info
A dazed man, David Stillwell (Gregory Peck), wanders down the stairs of a New York skyscraper during a power blackout, only vaguely aware of who he is, where he's been, and why he has this nagging feeling that danger lurks all about him. Stillwell does know that many of the people in the building are acquainted with him -- and that he is somehow linked with the death of wealthy philanthropist Charles Calvin (Walter Abel), who has fallen 27 floors to his death (a special effect that was remarkable for its time). From this point onward, everyone Stillwell meets is connected with Calvin's death, or is in some way threatening Stillwell's well-being. When he seeks the help of Dr. Pepper-imbibing private eye Ted Caselle (Walter Matthau), he is told that "you don't want to remember" -- shortly before Caselle is murdered by persons unknown. Only the enigmatic Sheila (Diane Baker) evinces any real sympathy, and she too is part of the conspiracy aimed at silencing and/or neutralizing the dumbfounded Stillwell. Mirage has far too many twists of plot to go into here, but if you stay with it, everything is satisfactorily explained. Less than three years after its initial release, the black-and-white Mirage was remade in color as Jigsaw.
Critic Reviews for Mirage
All Critics (4) | Fresh (4) | Rotten (0)
Mirage is the type of thriller where viewers only know as much (or as little) as the hero, meaning that the plot remains admirably dense for much of the running time.
Mirage has all the fascination of trying to put together a jigsaw puzzle without any idea of what the picture is going to look like when you're through.
... a well-executed suspenseful exercise in concealment and discovery.
Audience Reviews for Mirage
½
A solid B-list thriller, with a great score by Quincy Jones, a typically wooden but effective performance from Gregory Peck, and a wonderful turn by Walter Matthau as a low rent private dick.
Josh Morris
Super Reviewer
½
Good Hitchcockian thriller.
Nice Hitchcock like film. Keeps you guessing.
Anthony Valletta
Super Reviewer
Mirage Quotes
There are no approved quotes yet for this movie.