Monkey Business
(1952)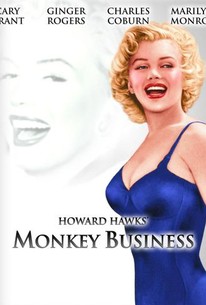 Movie Info
Howard Hawks hoped to capture the screwball comic fervor of his 1938 film Bringing Up Baby with his 1952 comedy Monkey Business. As in the earlier film, Cary Grant stars as an absent-minded professor involved in a research project. This time he's a chemist seeking a "fountain of youth" formula that will revitalize middle-agers both mentally and physically. Though Grant's own laboratory experiments yield little fruit, a lab monkey, let loose from its cage, mixes a few random chemicals and comes up with just the formula Grant is looking for. This mixture is inadvertently dumped in the lab's water supply; the fun begins when staid, uptight Grant drinks some of the "bitter" water, then begins cutting up like a teenager. A harmless afternoon on the town with luscious secretary Marilyn Monroe rouses the ire of Grant's wife Ginger Rogers, but her behavior is even more infantile when she falls under the spell of the youth formula. Everyone remembers the best line in Monkey Business: foxy-grandpa research supervisor Charles Coburn hands the curvacious Monroe a letter and says "Get someone to type this". Even better is his next line: after Monroe sashays out of the room, Coburn turns to Grant and, with eyes atwinkle, murmurs "Anyone can type." Likewise amusing is Monkey Business's pre-credits gag, wherein Cary Grant opens a door and is about to step forward when director Hawks, off-camera, admonishes "Not yet, Cary." Among the co-conspirators on Monkey Business's carefree script are Ben Hecht, Charles Lederer and I.A.L. Diamond, with an original story by Harry Segall (Here Comes Mr. Jordan) as their source. ~ Hal Erickson, Rovi
Critic Reviews for Monkey Business
Audience Reviews for Monkey Business
½
It is Cary Grant's and Ginger Rogers' talent what raises this amusing screwball comedy above average and keeps the balls rolling, as they make us laugh out loud especially in those hysterical moments when they behave like reckless, naughty youngsters.
Carlos Magalhães
Super Reviewer
½
Top gun talent behind and in front of the camera, and yet this one fails to ever get off the ground. The joke: show everyone involved acting respectably (i.e. adult) and then overturn everything by having them act irresponsibly (i.e. young). You know it's sad when a monkey nearly steals the film. Marilyn Monroe ... well, quite literally, all she has to do is just stand there, and she almost steals the whole kit and caboodle. Save this one for a night when you can't sleep.
Kevin M. Williams
Super Reviewer
If you like screwball comedies, this is for you! You can't beat Cary Grant's bemused expression when one of his leading ladies--Ginger Rogers and Marilyn Monroe--say something, well, screwy. And he certainly has a way with chimpanzees!
Bathsheba Monk
Super Reviewer
Monkey Business Quotes
There are no approved quotes yet for this movie.