Moonraker
(1979)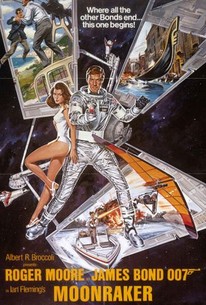 TOMATOMETER
AUDIENCE SCORE
Critic Consensus: Featuring one of the series' more ludicrous plots but outfitted with primo gadgets and spectacular sets, Moonraker is both silly and entertaining.
Movie Info
Secret agent James Bond finds himself battling yet another megalomaniacal villain in this entry in the long-running series of adventure films. This time Bond's opponent is Sir Hugo Drax, whose plans to destroy the earth with an atomic-powered rocket force Bond to add space travel to his resume.
News & Interviews for Moonraker
Critic Reviews for Moonraker
Audience Reviews for Moonraker
½
I have gone through many feelings toward Roger Moore as James Bond, and although this is one of the weakest films of the franchise, there is just something so enjoyable about the cheesy action scenes that this portion of the films seem to bring to the table. A little overlong, even though most of them run about 10-20 minutes too long in general. "Moonraker" begins as the remains of the moonraker ship are lost and Bond must investigate. This is the simplest idea of the bond films, yet I was lost as to how farfetched this film became. Jumping from ski lifts and going to space has never felt like the grounded film a bond picture should be. Overall, I did not care for this film very much. For it's characters or it's story. Some of the action is fun, but that's about it. One of my least favourite.
½
Throughout the 1960s and 70s, especially in the latter parts of each decade, sci-fi really hit a boom, especially in the wake of Star Wars and Star Trek. It was inevitable then, that 007 would eventually get drawn into the space race, which is exactly what happens here. Featuring Bernard Lee's final performance as M, Bond's mission this time sees him investigating the theft of a space shuttle, which in turns lead him to thwart the plot of a crazed billionaire industrialist bent on wiping out mankind, then replacing them with a super race he's been cultivating in a space station. And yes, this film is as over-the-top as sounds. For the most part though, I think this is actually a pretty good entry in the series. It does have some really amazingly eye rolling moments of cheesy absurdness, but it makes up for them with some decent action set pieces and special effects. Some of the humor did work for me, despite a few moments where things dip into downright parody territory. Moore, hardly my favorite Bond, does okay here, even if he is starting to show a bit of wear and tear with the role. Richard Kiel makes a nice return as Jaws, and I thought Lois Chiles was quite attractive as the awesomely named Bond Girl Holly Goodhead. Michael Lonsdale is likewise fine as the villain Hugo Drax, who has some interesting, if unoriginal motivations. The film really shows its ignorance of geography from time to time, but we do get some decently filmed sequences shot all over Brazil, Venice, France, the U.S. and of course in some impressively done sets. Despite some goofy moments, this is nevertheless a fun adventure. If you don't mind some camp, then yeah, give this one a spin.
Chris Weber
Super Reviewer
½
an absolutely excellent bond film until the end, when it heavily loses steam and comes to a crash. chiles is one of my least favorite bond girls, and the space sequence really just gets out of hand, but the film has some very bright spots through the first 90 minutes that salvage it as acceptable bond material.
Moonraker Quotes
| | |
| --- | --- |
| Q: | I believe he's attempting re-entry. |
| | |
| --- | --- |
| Jaws: | Well, here's to us. |
| | |
| --- | --- |
| Holly Goodhead: | Hang on, James! |
| James Bond: | (hanging from cable car) The thought had occured to me. |
| James Bond: | [hanging from cable car] The thought had occured to me. |
| | |
| --- | --- |
| Corinne Dufour: | My mother gave me a list of things not to do on the first date. |
| James Bond: | Maybe you won't need it. That's not what I came for. |