Moulin Rouge
(1952)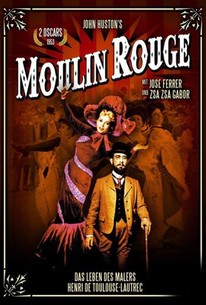 Movie Info
This film tells the story of 19th-century French artist Henri de Toulouse-Lautrec. The film records his frustration over his physical handicap (the growth in his legs was stunted by a childhood accident), his efforts to "lose" himself in Paris' bawdy Montmartre district, and his career as a painter.
Critic Reviews for Moulin Rouge
Audience Reviews for Moulin Rouge
½
Technicolor is a wonderful way to highlight Toulouse-Lautrec's work which the film does well and Zsa Zsa is fun in what is probably her best role. However Huston's pacing is slow and Ferrer gives a self important, dull performance.
½
I'll admit I like the new Moulin Rouge movie better than this one. This movie is sort of a historical drama, but I'm not sure how true it is to history, it's a strange movie with strange characters. I didn't really care for it, but it's not that bad either.
½
A wonderful companion piece to the more recent version and completely opposite in terms of tone. Ferrer is fantastic as Lautrec and the effects used to give the impression of him being short are faultless over 50 years on. The art direction and costume design were both worthy of their Oscar wins. The plot and pacing however are often uneven and repetitive as Lautrec meets new women who essentially treat him the same way. The first relationship became annoying with how every scene was simply arguing. For the most part though it is a haunting anti-romance with enough discussion points for any artist.
Luke Baldock
Super Reviewer
Moulin Rouge Quotes
There are no approved quotes yet for this movie.