Mr. & Mrs. Smith
(1941)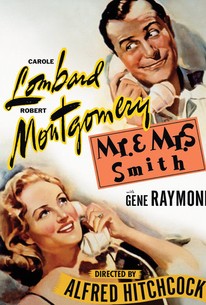 Movie Info
They're married for bitter or worse - until a technicality renders the union void. But now Mr. misses Mrs. and he's desperate to win her back. A rare and delightful foray into screwball comedy from suspense master Hitchcock.
Critic Reviews for Mr. & Mrs. Smith
Audience Reviews for Mr. & Mrs. Smith
A married couple that enjoys playful sparring with one another venture into deep water when they discover a bureaucratic oversight has rendered them not married. What's glib here is what's not said by the principals, Lombard and Montgomery, fully adapting to Hitch's trick of conveying thoughts with a glance. Unfortunately one wishes for more oomph, script-wise. Lombard, as ever, is effervescence itself.
Kevin M. Williams
Super Reviewer
The only way I can rationalize the steaming pile of shit that is known as Mr. & Mrs. Smith was that Alfred Hitchcock had no idea what to do for his next movie or he needed to make a really big step back before taking many steps forward in the coming years. I love screwball comedies from this era but Mr. & Mrs. Smith is disappointing. Compound the fact that Hitchcock made it (comedy wasn't his specialty admittedly) and you're talking a borderline crime against humanity. Carole Lombard was admittedly beautiful but crazy as a shithouse rat to the point where I almost shut this down in the first half hour. I was filled with rage at how shitty the characters were and how the whole resolution was tacked on at the very end. I think I actually would've been happier if one of them died at the end. Watch with e x t r e m e caution and incredibly low expectations. Mr. & Mrs. Smith had a few funny moments but they didn't outweigh the painful and embarrassing ones.
Michael Gildea
Super Reviewer
Forget that stupid movie with Jolie and Pitt, this is the real Mr. & Mrs. Smith! Hitchcock, unlikely enough, brings us a romantic comedy! It's really enjoyable, I liked it.
Mr. & Mrs. Smith Quotes
There are no approved quotes yet for this movie.