The Mummy
(1932)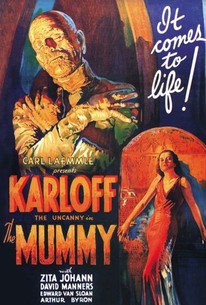 TOMATOMETER
AUDIENCE SCORE
Critic Consensus: Relying more on mood and atmosphere than the thrills typical of modern horror fare, Universal's The Mummy sets a masterful template for mummy-themed films to follow.
Movie Info
Brought back to life after nearly 3,700 years, Egyptian high priest Imhotep wreaks havoc upon the members of a British field exposition. While disguised as a contemporary Egyptologist, he falls in love with Zita Johann, whom he recognizes as the incarnation of a priestess who died nearly 40 centuries earlier.
News & Interviews for The Mummy
Critic Reviews for The Mummy
Audience Reviews for The Mummy
½
With a marvelous make-up and cinematography, Freund displays a firm grasp for his first movie (also in the flawless use of music and silence), but the plot suffers from inconsistencies, like the mummy leaving the scroll in the museum after killing the guard even if he would need it later.
Carlos Magalhães
Super Reviewer
Imhotep: You will not remember what I show you now, and yet I shall awaken memories of love... and crime... and death...  "It comes to life!" The Mummy is a cool little horror film from 1932. It's a classic for sure, but by no means does that mean it is perfect or even great. Boris Karloff's presence and the fact that this was his first role after hitting it big with Frankenstein. As the title character, he does a great job injecting power and intrigue into it. There's no doubt that without Boris Karloff, this movie would have been a whole lot harder to watch. The acting is terrible in spots, but serviceable most of the time. The dialogue and chemistry between characters is where this one completely misses the mark, but luckily some great cinematography and camera work saves the day. British archeologists disobey an ancient curse and awaken Imhotep, who ten years later tries to bring the love of his life back from the dead as well and will stop at anything to do so. The story is well done and interesting enough. It doesn't come together all that great, but that has a lot to do with the hour and thirteen minute runtime that doesn't allow for adequate closure at all. The climax is godawful and should have completely ruined the whole movie for me. Luckily, for some reason, it didn't though. While, The Mummy is by no means a masterpiece of horror, it's well worth a look for the diehard fans of the genre. There's a lot of reasons to watch it if you are. Firstly, Boris Karloff; doesn't matter what the movie is, it's worth It's also the first mummy movie if I'm not mistaken, which started a whole new sub genre for the horror genre. So while it's nothing special, it has its merits.
Melvin White
Super Reviewer
½
Yet another monster movie from Universal Studios, this film is not quite as large as life as many of its predecessors, including the preceding film of star Boris Karloff. This film, though inspiring a cavalcade of other monsters and similar films, was not made to satiate a call for mummies in motion pictures, or maybe it did. Capitalizing on the fame of the unearthing of King Tut's tomb, this film was put into production and called Karloff once more to play the terrifying villain, after his starring role in "Frankenstein". Karloff plays a de-mummified servant to the former empress of the Egyptian people. He gives himself over to death after being mummified and buried alive, just trying to bring her back from the dead. Now he lives as a reanimated living corpse, and he's back to find the reincarnated version of his former lover in order to reunite them for eternity. As always happens in these kinds of films, the woman is hypnotized, put into a trance-like state, bending to her beau's rule over her. Still, there is the always interesting love story between the reincarnated beauty and another man, who eventually stops the villain. The plot of the film is actually a call back to "Dracula," which also has two lovers split by a monster, a venerable older male figure that helps defeat the beast, and the plot eventually winds down because of its formulaic quality. Besides being a complete rip off of "Dracula" this film is also majorly racist against the Egyptian people. Many of their mythologies are used inaccurately; the film starts the untrue myth of living mummies, though it does get some of reincarnation right. I'm not saying all film respects mythology, but this film is blatantly racist with many of its assumptions about the culture, history, and mythology of an entire nation and doesn't even create a good monster with all of its material, only skewing the past. The love story was touching, and mummy devotion is always entertaining, but this film isn't all that lovable.
Spencer S.
Super Reviewer
The Mummy Quotes
There are no approved quotes yet for this movie.