The Mummy
(1959)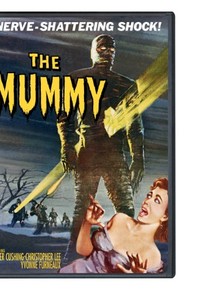 Movie Info
British archaeologists discover the ancient tomb of an Egyptian high priestess. A mummy of a high priest who had been buried alive comes to life to seek retribution against the trespassers of the tomb.
Critic Reviews for The Mummy
Audience Reviews for The Mummy
Cushing is such a chameleonic actor that he can transform substantially from one role to the next. In the 'Frankenstein' films, he is a haggard, misanthropic egomaniac who will sacrifice others for his gumption. In Hammer's sensational 'The Mummy', Cushing is the prodigal son of an archaeologist and he is positively youthful and benighted; the polar opposite of his demented doctor. Of course Hammer is reverential to the source material but it also incorporates some intriguing wrinkles into the story such as Lee's statuesque Kharis doesn't masquerades as a modern aristocrat because he is the murderous henchman of Mehemet Bey. Terence Fisher weans the utmost moodiness from the slow-burn tale with a foggy-bog resurrection. The embalming process is delineated in painstaking detail (from the caravan of organs to the final resting place) during a monologue by Cushing. With his towering height, Lee should be a germane candidate for the undead prowler but the facial makeup is too inexpressive to display an emotional range. However his piercing eyes are copacetic substitutes for the middling costume by Roy Ashton. 1959's 'The Mummy' can chalked up as another flamboyant, epic retelling from Hammer Studios. The most impressive element of Hammer's output is their economical celerity which practically ensures that they never overstay their welcome.
Cory Taylor
Super Reviewer
For a movie called The Mummy, the movie is certainly about The Mummy... maybe too much so. I see this as just another excuse to get Peter Cushing and Christopher Lee in the same movie together, somehow. The film is so repetitive and explains the same things over and over again, even going so far as to having a lengthy backstory scene, that it's at a constant state of halt. It doesn't move like a natural narrative should, with fresh information and character development at all times. Maybe I'm just asking too much though. After all, this is a Hammer Horror production, and is a bit of a remake of the Universal original, but I think just a little bit more attention could have been paid in the details to make it better. The make-up work is good, and it's shot well, but its slow pace, or lack thereof, make it a difficult movie to sit through. Not that it doesn't have its charms, but it's definitely not perfect.
Tim Salmons
Super Reviewer
½
Terrence Fisher's film The Mummy is one of the better takes on Universal Studios famous monster. Christopher Lee adorns the bandages in this Hammer Classic and he delivers a unique performance. This film is superb in its acting and plot. For a monster film, this version of The Mummy is a near flawless take on the classic tale. Peter Cushing delivers a great performance, but Christopher Lee steals the show. Director Terrence Fisher who previously worked with Lee and Cushing on previous Hammer Horror outings directs this classic horror tale. The Mummy evokes thrills and terror. Fisher crafts a solid film, and the cast deliver some strong performances. This is the first time I've watched a Hammer Horror production, and it won't be the last. Though I absolutely enjoyed the 1932 classic starring Boris Karloff, I have to give credit to Terrence Fisher for delivering a new vision on The Mummy. Overall this is a terrific horror film in its own right. Christopher Lee is great in the title role and much like Karloff before him; he makes the character his own. This film is a must see for Hammer Horror fans, and for fans of classic horror films. Christopher Lee adorns his bandages well, and delivers on-screen. This is a well crafted horror gem that makes The Mummy a monster to be reckoned with once more. This unlike the countless unimpressive sequels makes you cry out for your mummy.
The Mummy Quotes
There are no approved quotes yet for this movie.