Murder!
(1930)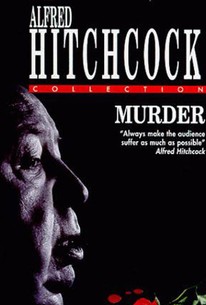 Movie Info
Creaky, formative Hitchcock concerns the director's No. 1 cinematic preoccupation: guilt and innocence. A juror (Herbert Marshall) who helped convict a young actress (Norah Baring) of murder has second thoughts and sets out to find the real culprit, The story unfolds in basic '30s whodunit fashion. What's important are the glimpses of Hitch's emerging style: the shadow of a noose on a prison wall, a circus suicide.
News & Interviews for Murder!
Critic Reviews for Murder!
Audience Reviews for Murder!
This early Hitch effort concerns a juror who, after originally deciding to vote guilty in a trial of a woman accused of murder, has seconds thoguhts about his decision and decides to investigate the case on his own, trying to get something done before the execution can be carried on. Even though the plot isn't really ss great as it coiuld have been, or as gripping and involving, I wasn't completely bored, just underwhelmed. he film does have some okay music though, and some actually pretty good camera work and cinematography, good editing, and okay set design. All in all, I think had I not seen so many other film before this one I'd have been more on it's wavelength, but I do have this to say about all of Hitch's early films: no matter how each fares individually, all of them are worthy when looked at as a whole since they give a neat look at the evolution of a filmmaker in his formative years who would end up becoimg one of the greatest, most important, and influential directors of all time.
Chris Weber
Super Reviewer
Not one of Hitchcock's best movies, kind of boring.
Alfred Hitchcock's early work is very uneven; it's only when you get to the likes of The Man Who Knew Too Much and The 39 Steps that the great man's talent begins to properly crystallise. And like all great filmmakers, it's easy to fall into the trap of lavishing praise on their early work in light of their subsequent reputation. But just as few would claim that Stanley Kubrick's Fear and Desire is up there with Dr. Strangelove, so it would be difficult to claim that Murder! is in any way a masterpiece. There are interesting ideas in it, along with several clues in its technical execution as to who Hitchcock would become. But its flaws are all too obvious and need to be recognised. Although it predates much of Agatha Christie, fans of the crime thriller will find many aspects of Murder! very familiar. We have a crime with a seemingly simple solution, which leads one man to believe that the explanation is too simple. The judicial system and the police are set up as secondary antagonists in the race against time to find the truth (the primary antagonist being the other characters, including the murderer). The man searching for the truth is an impassionate amateur, who in this case is faintly connected to the condemned. And the film culminates in a virtual admission of guilt and all the loose ends being tied up. With all these classic elements in place, it falls to the screenwriter and the director to prevent things from becoming hokey. Sometimes they succeed; the impassioned speech of Shackleton in the debating room, in which he criticises the whole justice system as being based on "sentiment", is an interesting red herring. It leads us to think that the film will follow this character, rather than the more dignified, conservative Sir John. Other moments, however, are rather contrived; the entrapment of the half-caste Fane feels unrealistic and is played out too slowly to be convincing. On a technical level, Murder! contains several early versions of tropes which Hitchcock would reuse later in his career. Towards the end of the film, we see Fane swinging on the trapeze in the circus, and the camera swings with him, staying on his face in a tight close-up. This is a simple but effective way of adding tension to the scene, allowing us to see Fane's mental collapse in great detail so that his subsequent suicide attempt makes sense. Hitchcock would use a similar technique in Vertigo nearly thirty years later. Being an early talkie, the soundtrack isn't brilliant, and occasionally the cinematography deserts the film -- the light will fade suddenly in mid-scene, in what we think is a blackout, but then comes back (of course, this may be a problem with a particular print). Many of the transitions from scene to scene are very simple, with the use of the recurring line, "a lot more places to visit, Sir John", and then a simple fade. Some of Hitchcock's tricks, however, don't work quite as well -- the panning shots from one juror to another is jerky, as are the scenes where the camera is following two women through several rooms of a house. Although its subject matter is grim, Murder! has a wry sense of humour running through it. This is to be expected from the man who described making Psycho as "hilarious", and who went on record many times as saying it was satisfying planning how all his murder victims would be killed. The sense of humour here is lighter, with much of it deriving from the poor quality of stage acting on offer. Although we accept that stage actors in this period had to be 'big' and wear much more make-up than we now consider necessary, there is still something about all the big movements and even bigger line deliveries which cause a titter or a smirk. In one scene, a constable is trying to interview all the members of a company of which the alleged murderess was a member, but he keeps being interrupted as the actors enter and exit on cue. This is funny in itself, but when we get the snippets of the play-within-the-film, it's almost like watching Noises Off or The Real Inspector Hound, the latter of which parodied much of Christie's work. The prominent role of theatre is both the best and worst thing about Murder!. It is the best thing because it usefully illuminates the central theme, namely the relationship between life and art. Sir John gives several speeches around the hour mark about applying the logic and process of one to the everyday problems of the other -- "the law has no sense of drama", as he puts it. This is an interesting departure from the cold logic of Sherlock Holmes or the 'little grey cells' of Hercule Poirot, bringing a more human side to the detective and his assistants. The problem, however, is that Murder! often feels very theatrical. It is odd that the consummate cinephile, who once described films of stage plays as "photographs of people talking", should have constructed something which feels so stagey in places. Despite being based on a novel, much of the dialogue feels lifted from a stage play: for instance, the other jurors chanting "Any answer to that, Sir John?" in unison. Hitchcock attempts to compensate through tension created by quick cuts, but he only partially succeeds in alleviating this theatrical quality. Outside of the jury scene, the film often tips over into inappropriate melodrama in a way which is fleetingly annoying. The worst instance of this comes when Sir John is shaving, and has a revelation: "Who drank that brandy?". In reality only half of that line is heard, with the rest being drowned out by a sudden burst of orchestral accompaniment which holds the rest of the scene at fever pitch while the actors relax. Like Leslie Howard in Intermezzo, Herbert Marshall seems to have only one real facial expression, and it's left to his voice to carry the performance. There have of course been many examples of 'stagey' works which have translated solidly into film -- think of The Odd Couple or Sleuth, for example. But what allows both of these to get away with their moments of theatrical whimsy and over-the-top quirkiness is the strength of the central performances. The respective double acts are deeply cinematic in their delivery; although Laurence Olivier is 'big' in Sleuth, we accept it because it playing somebody pompous and he knows how to work the camera. Here, the central partnership is not quite strong enough, either in its characters or their development. Overall Murder! is a pleasantly passable crime thriller which employs its setting in an interesting way. The old-fashioned attitudes of the characters are not as overtly annoying as in The Snows of Kilimanjaro; most of the women on screen are actually quite intelligent. But it's only with the tense shot of the gallows rising up the wall that the film becomes truly cinematic. Though many of its devices are familiar and some viewers will find the technology hard to swallow, the film generally gets away with its creaky moments and feels rewarding in the end. Most importantly, it contains moments of real promise and clear hints of all the great work to come.
Daniel Mumby
Super Reviewer
Murder! Quotes
There are no approved quotes yet for this movie.