Music Box
(1989)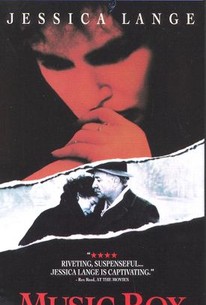 Movie Info
Jessica Lange plays an attorney whose affable Hungarian-immigrant father Armin Mueller-Stahl is arrested. He is threatened with deportation for lying about his activities during World War II; part of the charge is that Mueller-Stahl was a Nazi collaborationist, guilty of wartime atrocities. Absolutely convinced that her father is being railroaded by a revenge-seeking Hungarian communist government, Lange handles Mueller-Stahl's defense, expertly blowing huge holes in prosecuting attorney Frederic Forrest's case. But in doing her own research, Lange discovers that her father has spent a lifetime paying off a blackmailer. Why? In contrast to the fervency of his earlier Z, Costa-Gavras refuses to make things easy by proselytizing in The Music Box (nor does screenwriter Joe Esterhas indulge in his usual right-between-the-eyes fervency). Everything in the film is offered on the same calm, collected level, making the ultimate horror of the story all the more effective.
Critic Reviews for Music Box
Audience Reviews for Music Box
½
Armin Mueller Stahl is fantastic as the man who may or may not have had a despicable past. The reveal is the highlight of the film. Lange was Oscar nominated but she has done better.
John Ballantine
Super Reviewer
½
Not sure how I came across this movie to put on my list but I am glad I did/ Armin Muller-Stahl plays as usual an excellent part of a father who is accused of WWII war crimes. Living in the United Sates he is faced with being sent back to Hungary. Jessica Lange plays the daughter who is a lawyer and has decided to defend her father. Why Jessica Lange is not listed in the cast on this page is beyond me, another Flixster goof? A twist at the end, that I will not give away, but that all can see coming after about the 1st hr. Even though Jessica was awarded a Oscar for her performance, I can't give more then 3 1/2 stars, that doesn't mean this film is not worth watching at least once. If your a WWII Buff you might rate it higher
Bruce Bruce
Super Reviewer
½
Yet another boring 80s courtroom drama with wooden acting, which fails to make me care about the characters or bring any suspense to the case.
Ross Collins
Super Reviewer
Music Box Quotes
There are no approved quotes yet for this movie.