Mutiny on the Bounty
(1935)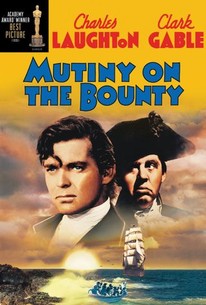 TOMATOMETER
AUDIENCE SCORE
Critic Consensus: The historical inaccuracies in this high-seas adventure are more than offset by its timeless themes, larger-than-life performances from Clark Gable and Charles Laughton, and Frank Lloyd's superb direction.
Mutiny on the Bounty Photos
Movie Info
The 1932 publication of Charles Nordhoff and James Norton Hall's Mutiny on the Bounty sparked a revival of interest in the titular 1789 ship mutiny, and this 1935 MGM movie version won the Oscar for Best Picture. Clark Gable stars as Fletcher Christian, first mate of the infamous HMS Bounty, skippered by Captain William Bligh (Charles Laughton), the cruelest taskmaster on the Seven Seas. Bligh's villainy knows no bounds: he is even willing to flog a dead man if it will strengthen his hold over the crew. Christian despises Bligh and is sailing on the Bounty under protest. During the journey back to England, Bligh's cruelties become more than Christian can bear; and after the captain indirectly causes the death of the ship's doctor, the crew stages a mutiny, with Christian in charge. Bligh and a handful of officers loyal to him are set adrift in an open boat. Through sheer force of will, he guides the tiny vessel on a 49-day, 4000-mile journey to the Dutch East Indies without losing a man. Historians differ on whether Captain Bligh was truly such a monster or Christian such a paragon of virtue (some believe that the mutiny was largely inspired by Christian's lust for the Tahitian girls). The movie struck gold at the box office, and, in addition to the Best Picture Oscar, Gable, Laughton, and Franchot Tone as one of the Bounty's crew were all nominated for Best Actor (they all lost to Victor McLaglan in The Informer). The film was remade in 1962 and adapted into the "revisionist" 1984 feature The Bounty with Mel Gibson as Fletcher Christian and Anthony Hopkins as Captain Bligh. ~ Hal Erickson, Rovi
News & Interviews for Mutiny on the Bounty
Critic Reviews for Mutiny on the Bounty
Audience Reviews for Mutiny on the Bounty
½
A first officer, popular with the sailors, challenges an imperious captain. If you were to choose an actor to play an imperious, severe, and often malicious character, you could find no one better than the legendary Charles Laughton. He steals every scene. His protruding lower lip, his hard eyes, and his posture, which makes him look like a spent slug, all convey an immobility and hard-heartedness that make this film a work of art. All this is from the man who could also convey the breadth of human misery in the face of Quasimodo in The Hunchback of Notre Dame. The plot is rendered ably enough by director Frank Lloyd, and Clark Gable, while nowhere near Laughton's equal, delivers a strong performance, going toe to toe with Laughton and fairly holding his own. The film is remarkable for its special effects, its acting, and its story, which though rendered many time before, still feels fresh and interesting. Overall, Laughton makes this good film great.
Jim Hunter
Super Reviewer
"Mutiny on the Bounty," winner of 1935's Best Picture Oscar, is an adventurous delight. Charles Laughton owns the role of Captain Bligh, playing him with resolute, forceful evil. But Clark Gable and Franchot Tone really own the movie, playing close friends who go up against Bligh each in his own way. The at-sea photography is extraordinary, with expert direction from Frank Lloyd. Also beautiful is the photography on what was supposed to be Tahiti, but which was probably Hawaii. The pristine restored print that was pressed on DVD (and which is available from Netflix) gives you the chance to see this top-notch production in all its glory. It feels as if it could have been directed last year -- it isn't dated in the slightest. It's as crisp, taut and emotionally engaging as it was back in '35.
William Dunmyer
Super Reviewer
½
Old Hollywood sure knew how to do epics, and this film is no exception. Despite a number of inaccuracies and liberties with the story (mostly for the purpose of dramatic effect), this is a very well done take on the classic story with the central issue of fun/freedom versus hardwork and accomplishment (that comes at the cost of suffering tyranny). The performances from Laughton and Gable are awesome. Gable looks weird clean shaven, but that's actually something the film gets historically accurate. The rest of the cast isn't too shabby either, even though the time period kept more "authentic" people getting cast as islanders. This must have really been something of a spectacle when it came out. It's impact isn't quite as grand as it once was, but it still packs a punch, reminding modern viewers of how to make a compelling epic the old fashioned way. Give this one a shot. It isn't perfect, but it has a reputation for being one of the better film versions of the story, and I can see why.
Chris Weber
Super Reviewer
Mutiny on the Bounty Quotes