Near Dark
(1987)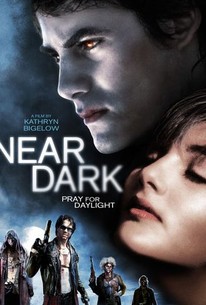 TOMATOMETER
AUDIENCE SCORE
Critic Consensus: Near Dark is at once a creepy vampire film, a thrilling western, and a poignant family tale, with humor and scares in abundance.
Movie Info
A roving band of contemporary vampires travel across the American West in search of the human blood they crave in this violent, but well-wrought horror show. Their newest member is a young farm boy they recently kidnapped.
Critic Reviews for Near Dark
Audience Reviews for Near Dark
This is a film that borders between the world of supernatural vampire films of today, and the grittiness of an eighties action film. Taking a lot of the supporting cast of James Cameron's "Aliens" and thrusting them into the world of vampire outlaws isn't all that unnerving. What makes the film pop has nothing to do with the close knit clan of vampires. These characters are all based on their appearances: Jesse (Henricksen) is a cryptic, ancient warrior who is animalistic in his actions, Mae (Wright) is sweet and innocent, and Severen (Paxton) is a crazed, bloodlust loving killer. Their appearances, the action that shapes the film and makes it step into action movie territory, but then the scenes where they hunt are obviously more based in horror. Bill Paxton is electric in his role, looking fanged and always hungry. The scene where they stop in a bar and feed, would have scared me every night before bed for weeks afterward when I was younger. It's chilling even now, watching his cockeyed stare surveying a man as he tries to protect himself, with blood dripping down his face as easily as sweat. Highly recommend watching this, one of Kathryn Bigelow's earliest films that has some seriously creepy performances.
Spencer S.
Super Reviewer
[img]http://images.rottentomatoes.com/images/user/icons/icon14.gif[/img]
Directors Cat
Super Reviewer
½
A sexually charged tale of vampirism created decades before it was considered vogue by Pattinson-worshiping pre-teens. When young Caleb is picked up by a marauding band of night-walkers, he is forced to learn how to survive in his new skin without abandoning what he knows to be right. Created in the midst of the Reagan Revolution, with it's intense focus on private gain as opposed to the public good, young Caleb must learn to see his fellow humans not as equals, but rather as something to be exploited. He must learn that a way of life is something that has to be taken from others, even if that means taking their very lifesblood. Politics aside, Bigelow deftly blends horror and the Western in a way that is, pardon the pun, very infectious. Accented by a Tangerine Dream score, this moody coming of age story is sadly underrated. Overshadowed by The Lost Boys, which hit cinemas a mere three months before the release of Near Dark. Structurally, the film is a bit sloppy. Some scenes are awkwardly forced in to satisfy sub-plots and the end feels a bit slapdash. Also, the dialogue hasn't aged particularly well. For example: Caleb: What's going on? Severen: It's not what's going on, it's what's coming off....your face. So while not without it's flaws, Near Dark is a dark and fun piece of 80's cinema.
Near Dark Quotes
| | |
| --- | --- |
| Loy Colton: | What in the God Damn Hell is goin' on here? |
| | |
| --- | --- |
| Severen: | It's finger lickin good |
| Severen: | It's finger-lickin' good! |
| | |
| --- | --- |
| Severen: | Hey Jesse, remember that fire we started in Chicago? |
| Severen: | Hey, Jesse, remember that fire we started in Chicago? |
| | |
| --- | --- |
| Bartender: | What do you people want? |
| Jesse: | Just a couple more minutes of your time..about the same duration as the rest of your life. |
| Jesse: | Just a couple more minutes of your time... about the same duration as the rest of your life. |