Lo strano vizio della Signora Wardh (The Strange Vice of Mrs. Wardh)
(1971)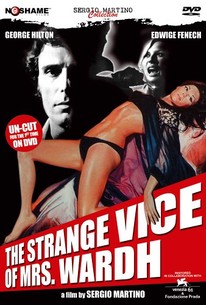 AUDIENCE SCORE
Critic Consensus: No consensus yet.
Movie Info
In this flashy giallo from Italian filmmaker Sergio Martino, Julie Wardh (Edwige Fenech) is a lovely but jaded woman who is no longer satisfied in her relationship with husband Neil (Alberto de Mendoza), a wealthy but emotionally cold man of privilege. However, as she ponders the fate of her marriage, her thoughts often turn to her former lover Jean (Ivan Rassimov), a cruel libertine with a taste for inflicting pain. Julie meets handsome George (George Hilton) at a wild party and discovers he's attracted to her just as she's drawn to him. Julie and George are soon involved in a torrid affair, but it's Julie's poor fortune that Jean attended the party where they first met and knows about her new infidelity. Even worse, Jean is willing to blackmail Julie to get what he wants, forcing her into a desperate situation. ~ Mark Deming, Rovi
Critic Reviews for Lo strano vizio della Signora Wardh (The Strange Vice of Mrs. Wardh)
Audience Reviews for Lo strano vizio della Signora Wardh (The Strange Vice of Mrs. Wardh)
½
Giallo at it's best, The Strange Vice of Mrs. Ward is a lovely mess, with plenty of style over substance. There's a killer, a woman with kinky fetishes, a shit ton of lovers and one of them is the killer. The story is a disjointed mess but each segment flows at a really good pace, featuring some inventive scenes here and there. There's always something new to enjoy and appreciate at each turn and that's where the success of this one resides.
Francisco Godinho
Super Reviewer
½
Wow! This one really moves, from the very beginning we are assaulted with seeming misogynist activity involving nakedness and blood. With barely time to breath we are drawn into a fast moving and shocking tale involving a knife slashing serial killer and the beautiful Edwige Fenech's real, imagined or remembered images of violent rape culminated in ecstatic sex. Heady stuff indeed and if that all were not enough Edwige seems unable to keep any clothes on for at least the first half hour. Things calm down a little for a while as we admire the fantastic set design and score at one moment threatening at another sweet and seductive and in accompaniment to the vicious rape scenes almost religious. We struggle to work out just who is killing who as the film turns into a thriller before the wonderful and exciting last part where the twists and turns are for once surprising and a joy to behold. Excellent. Not much finesse but everything else
Cassandra Maples
Super Reviewer
½
'The Strange Vice of Mrs Wardh' is an essential viewing for any giallo fan. The acting, sets and settings, plot, and twists are all very well done.
Lo strano vizio della Signora Wardh (The Strange Vice of Mrs. Wardh) Quotes
There are no approved quotes yet for this movie.