Night and Day
(1946)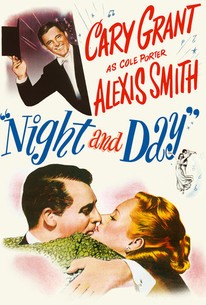 Movie Info
Faced with the challenge of writing a screenplay based on the life of fabulously wealthy, fabulously successful composer Cole Porter, one Hollywood wag came up with a potential story angle: "How does the S.O.B. make his second million dollars?" By the time the Porter biopic Night and Day was released, the three-person scriptwriting team still hadn't come up with a compelling storyline, though the film had the decided advantages of star Cary Grant and all that great Porter music. Roughly covering the years 1912 to 1946, the story begins during Porter's undergraduate days at Yale University, where he participated in amateur theatricals under the tutelage of waspish professor Monty Woolley (who plays himself). Though Porter's inherited wealth could have kept him out of WWI, he insists upon signing up as an ambulance driver. While serving in France, he meets nurse Linda Lee (Alexis Smith), who will later become his wife. Focusing his attentions on Broadway and the London stage in the postwar years, Porter pens an unbroken string of hit songs, including "Just One of Those Things," "You're the Top," "I Get a Kick Out of You," "Begin the Beguine," and the title number. The composition of this last-named song is one of the film's giddy highlights, as Porter, inspired by the "drip drip drip" of an outsized rainstorm, runs to the piano and cries "I think I've got it!" The film's dramatic conflict arises when Porter is crippled for life in a polo accident. Refusing to have his legs amputated, he makes an inspiring comeback, even prompting a WWI amputee to remark upon his courage! Corny and unreliable as biography, Night and Day is redeemed by the guest appearances of musical luminaries Mary Martin (doing a spirited if disappointingly demure version of her striptease number "My Heart Belongs to Daddy") and Ginny Simms, the latter cast as an ersatz Ethel Merman named Carole Hill. Jane Wyman, seen as Porter's pre-nuptial sweetheart Gracie Harris, also gets to sing and dance, and quite well indeed. Beset with production problems, not least of which was the ongoing animosity between star Grant and director Michael Curtiz, Night and Day managed to finish filming on schedule, and proved to be an audience favorite -- except for those "in the know" Broadwayites who were bemused over the fact that Cole Porter's well-known homosexuality was necessarily weaned from the screenplay.
Critic Reviews for Night and Day
Audience Reviews for Night and Day
Typical Hollywood hard sell designed to keep you from thinking too long on the fact that you're actually getting very little. So there's oodles of scantily clad dancing girls in Technicolor (in typically extravagant, over-the-top MGM Busby Berkely inspired dance numbers - which ain't bad at all = one star), lotsa close-ups of Grant (one star), and of course those unforgettable Porter songs (the only real reason to see this), used even as background music when not being used as centerpieces (one star). Its very, very shiny, but that's all.
Kevin M. Williams
Super Reviewer
Grant plays Cole Porter in this biography of his life. It features many of his hit songs too. If you're a fan of either Grant or Porter, you will enjoy this movie.
Almost total fabrication of Cole Porter's life, but you can't beat the music and even though Cary Grant is unusually stiff in the title role the rest of the cast is fun, especially Jane Wyman in one of her last light hearted and blonde roles.
Night and Day Quotes
There are no approved quotes yet for this movie.