A Night at the Opera
(1935)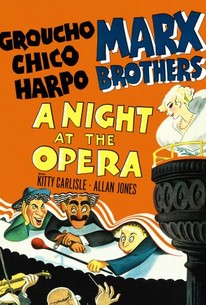 TOMATOMETER
AUDIENCE SCORE
Critic Consensus: Watermelons may go out of season, but in A Night at the Opera, the Marx Brothers' daffy laughs are never anything less than uproariously fresh.
A Night at the Opera Photos
Movie Info
Although some purists hold out for Duck Soup (1933), many Marx Brothers fans consider A Night at the Opera the team's best film. Immediately after the credits roll, we are introduced to Groucho Marx as penny-ante promoter Otis B. Driftwood. After a sumptuous dinner with a beautiful blonde at a fancy Milan restaurant, Driftwood tries to cadge another free meal from his wealthy patroness, Mrs. Claypool (Margaret Dumont). The dignified dowager complains that Driftwood had promised to get her into high society, but has done nothing so far. Otis B. counters by introducing Mrs. C to pompous opera entrepreneur Gottleib (Sig Rumann); all Mrs. Claypool has to do is invest several hundred thousand dollars in Gottleib's opera company, and her entree into society is in the bag. Contingent upon this plan is Driftwood's signing of Rodolfo Lassparri (Walter Woolf King), a self-important tenor. Backstage at the opera, Driftwood meets Fiorello (Chico Marx), who poses as a manager and offers to sell Driftwood the "world's greatest tenor"-not Lassparri, as Driftwood assumes, but Fiorello's pal Ricardo Baroni (Allan Jones). Instantly the two sharpsters try to draw up a contract ("The party of the first part shall hereafter be known as the party of the first part..."), which they proceed to tear up piece by piece whenever coming across a clause that displeases them (Driftwood: "That's a sanity clause"; Fiorello: "You no foola me. There ain't no Sanity Claus"). Having lost Lassparri to Gottleib, Driftwood sails back to America with Mrs. Claypool and the opera company. Gottleib arranges for Driftwood to get the tiniest, least accessible stateroom on the ship. Unpacking his trunk, Driftwood discovers that he's got to share his postage-stamp quarters with Ricardo Baroni, who has stowed away because he's in love with the opera troupe's leading lady Rosa (Kitty Carlisle). Also hiding out in Driftwood's trunk is Fiorello, who's come along because he's still Ricardo's manager, and the wacky Tomasso (Harpo Marx), Lassparri's former dresser, who has come along for the hell of it. Anxious to arrange a tete-a-tete with Mrs. Claypool in his stateroom, Otis finds out that his unwelcome guests won't leave until they're fed ("Do you have any stewed prunes? Well, give them some black coffee, that'll sober 'em up"). After ordering a huge dinner, Otis and his new friends are crowded even farther by a steady stream of intruders, including an engineer and his assistant, a cleaning lady, a manicurist, a girl looking for her Aunt Minnie, and a dozen waiters. The celebrated "stateroom scene" comes to a rollicking conclusion when Mrs. Claypool has the misfortune of opening the door. On the last night of the voyage, Fiorello, Tomasso and Ricardo sneak out of their stateroom to enjoy an impromptu ethnic festival in steerage. Ricardo sings, Fiorello "shoots the keys" on the piano, and Tomasso plays the film's theme song Alone on the harp. The stowaways are caught and thrown in the brig, but with Driftwood's help they escape. To avoid recapture, the stowaways don heavy beards and pose as three famed Russian aviators. After making a shambles of a public reception, the three reprobates hide out in Driftwood's New York apartment, where everyone conspires to drive an investigating detective (Robert Emmet O'Connor) crazy. Driftwood is fired from the opera company for associating with the stowaways, while Rosa is dismissed for refusing Lassparri's affections. In order to restore Rosa's job and put the deserving Ricardo in Lassparri's place during the opening performance of La Traviata, Driftwood, Fiorello and Tomasso concoct a scheme that will reduce the opera to comic chaos. The actual night at the opera in A Night at the Opera must be seen to be believed, but the spirit of the scene can be summed up by Gottleib's anguished cry "A battleship in Il Trovatore!" Opera was the Marx Brothers' first film for MGM, and they dearly coveted a hit after the disappointing box-office showing of their final Paramount films. With the blessing of MGM production chief Irving Thalberg, the Marxes went on the road with their brilliant writing staff (including George S. Kaufman, Morrie Ryskind and Al Boasberg) to test their comedy material before live audiences. As a result of this careful preplanning, Night at the Opera was a smash-hit gigglefest, grossing over $3 million and putting the Marxes back on top in the hearts and minds of filmgoers everywhere.
Critic Reviews for A Night at the Opera
Audience Reviews for A Night at the Opera
It is true that this film is more uneven when compared to Duck Soup, stopping many times for musical numbers that hinder the comedy a bit (although I do love seeing Chico and Harpo at the piano), but even so there are a lot of hilarious moments here that make it pretty delicious as well.
Carlos Magalhães
Super Reviewer
½
The Marx's Brothers are for sure one of the best comedians ever, and A Night At The Opera is a terrific prove of that.
Lucas Martins
Super Reviewer
I can't still completely warm up to the Marx Brothers, but I can't deny the film has some incredibly funny moments
Matheus Carvalho
Super Reviewer
A Night at the Opera Quotes
| | |
| --- | --- |
| Otis B. Driftwood: | You know the old saying, twos company and fives a crowd |
| Otis B. Driftwood: | You know the old saying. Two's company, fives a crowd. |
| | |
| --- | --- |
| Otis B. Driftwood: | You know the old saying. Two's company, fives a crowd. |
| | |
| --- | --- |
| Otis B. Driftwood: | Two beers, bartender! |
| Otis B. Driftwood: | I'll take two beers, too. |
| Fiorello: | I'll take two beers, too. |
| | |
| --- | --- |
| Otis B. Driftwood: | Do they allow tipping on the boat? |
| Steward: | Yes, sir. |
| Otis B. Driftwood: | Have you got two fives? |