A Night to Remember
(1958)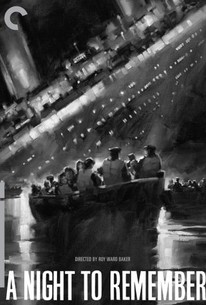 A Night to Remember Photos
Movie Info
This meticulous re-creation of the sinking of the Titanic was adapted by Eric Ambler from the best-selling book by Walter Lord, and it preceded the blockbuster Titanic by almost 40 years. The film covers the life and death of the huge vessel from its launching celebration to that fateful night of April 14, 1912, when the "unsinkable" ship struck an iceberg in the North Atlantic. Of the 2224 passengers on board, 1513 were drowned as a result of the bad planning of lifeboats and escape routes. Kenneth More heads a huge and stellar cast, with 200 speaking parts, as second officer Herbert Lightoller, from whose point-of-view the story unfolds. Also in the cast are Laurence Naismith as the ill-fated Captain Smith; Michael Goodliffe as conscience-stricken ship's designer Thomas Andrews; Tucker McGuire as feisty American millionaire Molly Brown, whose courage and tenacity saved many lives; and Anthony Bushell as the captain of the Carpathia, who launched a noble but vain rescue mission once he was apprised of the disaster. Also appearing are two future TV favorites: The Avengers' Honor Blackman as a woman who believes that she has nothing to live for, and The Man From UNCLE's David McCallum as a wireless operator. The climactic sinking of the vessel is re-created with painstaking accuracy; filmed in "real time," it is a mere 37 minutes shorter than the actual tragedy. Two years before the film's release, an American TV adaptation of A Night to Remember set a precedent as the most elaborate and technically complex "live" broadcast of its time. Some viewers will find this movie a more accurate and gripping representation of this sea disaster than the romance-heavy Titanic.
Critic Reviews for A Night to Remember
Audience Reviews for A Night to Remember
R.M.S Titanic- 100 years ago today 1912-2012 This year being the centenary of R.M.S Titanic's sinking, I would decide to review this classic film depicting the most famous sea disaster of the 20th century. Now before I review the film, I just want to say that I didn't enjoy the 1997 version of Titanic, I just felt it was a film that had too much fiction and unnecessary drama that tried too hard at over doing the suffering and pain of that horrible tragedy. I thought Cameron had a great eye for the film, but the romantic storyline absolutely ruined the film for me. I see that film as a blunder, and I just hated the fact that they mostly had to sugar the facts with a purposely tear jerking love story, as a person who's very much intrigued by the story of Titanic I was very disappointed with that film. However, A Night to Remember is a film I highly recommend to viewers who want the true story of the Titanic. With this film you get the facts, not fiction. Brilliantly directed by Roy Ward Backer, A Night to Remember is a cinematic classic that tells the true story of the greatest ship ever made. The cast assembled here for this production is phenomenal. I've been fascinated with the Titanic since I was a young kid, and now I'm in my mid to late twenties. This film is superb, it has everything you want that would please a Titanic buff. A Night to Remember is dramatic and suspenseful, and one key element that makes this a worthy film to watch is that it's an accurate portrait of the disaster. The film is brilliant and a flawless piece of cinema. The actors on-screen deliver memorable performances as well. The film is a much more accomplished film compared to the massively overrated Titanic, and if you're interested in the facts about the tragedy, this is the film to watch. After all these years, A Night to Remember remains the definitive Titanic film. James Cameron's film is nothing compared to this one. More accurate, better acting, and hold true to the facts, it's no secret that this film remains a favorite of Titanic enthusiasts the world over. Not only is A Night to Remember a memorable film that accurately portrays this famous disaster, this is a cinematic classic that should be seen by film enthusiasts everywhere. Watching this film, you may agree that it's far superior to the typical Hollywood love story that James Cameron gas made. I think that this is a phenomenal picture and is terrific tribute to the victims that died during the sinking. A brilliantly acted piece of cinema that delivers drama and suspense from start to finish. Forget the sappy purposely tear jerkin love sick Cameron version that relies more on fiction, and pick up this one instead.
The only movie about The Titanic you need to see. Nowhere will you find melodramatic nonsense, or forced love stories. This film is filled with tension and terror way before its time. As the events unfold, it's surprising to see how calm everybody is. The calmness gradually builds to madness, but not to the insanity of the 1997 film. I saw this film when I was very young, and it always stuck with me. Some shots were directly lifted for Cameron's effort. Some may mistake the very Englishness of it all as a lack of emotion. It couldn't be further from the truth. A man lies to his wife about the severity of the impact, a woman runs for her lucky pig, the designer tells a couple their best chance of survival etc. It's the calmness that is unsettling, but also what this film, and those on the
Luke Baldock
Super Reviewer
Based on a researched book this movie is like a factual documentary. It's not about storytelling or character building but more about the harsh reality of the disaster. It paints a picture of what ifs and regrets. Very moving and believable depiction. The set is amazing for that period.
Candy Rose
Super Reviewer
A Night to Remember Quotes
There are no approved quotes yet for this movie.