Nighthawks
(1981)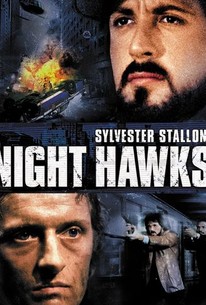 Movie Info
Deke DaSilva (Sylvester Stallone) and Matthew Fox (Billy Dee Williams) are New York police officers specially assigned to a special multi-national team dedicated to tracking down terrorist Wulfgar (Rutger Hauer). Wulfgar planted a bomb in a London department store, killing several children and he is now an outcast, hunted by both the police and his fellow gang members. He has extensive plastic surgery and resumes his activities aided by Shakka (Persis Khambutta), a completely psychotic fellow outcast. Soon DaSilva and Wulfgar are engaged in a violent battle of wits as Wulfgar resumes his terrorist activities and threatens New York . This very effective thriller features a chilling performance by Rutger Hauer as the handsome, ruthless cold-blooded killer who charms women into helping him and then kills them. Sylvester Stallone gives an unusually understated emotionally vulnerable performance as a man trying to save lives while he saves his own marriage. The film makes excellent use of New York locales, particularly during a terrifying hijacking of a cable car where Wulfgar coolly decides which of the hostages will live or die.
News & Interviews for Nighthawks
Critic Reviews for Nighthawks
Audience Reviews for Nighthawks
Rambo and Lando more or less remake French Connection, but with a terrorist (Rutger Hauer in his debut) instead of a drug dealer.
Ken Stachnik
Super Reviewer
Very much in the same tradition of the French Connection, an 80s equivalent and almost as good. The good vs. evil aspect is the strongest and quite possibly the most effective in a plot like this. Part of that is due to both Rutger Hauer and Sylvester Stallone's flawless performances. Sly is actually a lot different than he usually is in this, way more of a hothead and energetic. However, it's Rutger Hauer as the terrorist mastermind Wulfgar who totally dominates the movie. The cinematography is great, just another one of the many strong suites this has. I love the story, terrorism has never been handled quite so well in a cop movie. This is believable, non-stereotyped and just really cool. It's a shame that this goes along without a bigger fanbase, hopefully one day it will be appreciated properly.
Conner Rainwater
Super Reviewer
.Nighthawks is a remarkable film on many levels and more than eerily prophetic, considering what took place in New York City twenty years after its release in 1981. It focuses on two undercover police detectives, Sgt. Deke DaSilva(Sylvester Stallone) and his partner Sgt. Matthew Fox(Billy Dee Williams)who work in the NYPD Citywide Street Crime Unit as decoy officers. Donning different disguises, they walk the streets of the City's toughest neighborhoods, offering themselves up as bait for muggers and other lowlifes. This unit was responsible for taking a lot of guns and dangerous people off the streets. Unfortunately, in the wake of the Amadou Diallo shooting in the Bronx in 1999, it was disbanded. The arrival in New York of an international terrorist named Wulfgar(Rutger Hauer) finds the two Detectives temporarily reassigned to an elite counter-terrorist unit called ATAC. A British expert on counterterrorism in general and Wulfgar in particular(Nigel Davenport) is recruited by the Department to train the selectees in the different strategies and tactics they'll need to deal with this new threat. His character, Peter Hartman, is an old hand at understanding the terrorist mentality and how they operate. He is also a believer in "taking the shot" when the opportunity presents itself, even if it results in "collateral damage", or death to a civilian hostage. Stallone's character has a big problem with all this. He indicates that he didn't join the Department to kill people, whether they're street criminals, terrorists, or especially, innocent civilians. Clashing with Hartman at every juncture, he says he doesn't want any part of this and indicates to the Englishman that he's quitting the unit. His partner talks him out of it by telling him that Hartman sees him as one of the best and that's why he was chosen. In reviewing DaSilva's wartime kill record in Vietnam, Hartman tells him that he has faith that when the time comes, he'll do what needs to be done. Wulfgar is very intelligent, cunning and good-looking and his MO is to hook up with women he meets at discos and move in with them, using their apartments as a safe house. When he meets Pam(Hilany Thompson), an airline stewardess, she asks him what he does for a living. Knowing that she won't believe him, he tells her the truth- that he's an international terrorist wanted by the police in various European countries. When she stumbles upon his weapons stash in her closet after he moves in with her, she realizes too late that what he told her was not a jocular remark. When the police find her body they also find a clue that he inadvertently left behind indicating what his strike target here in the City will be. DaSilva and Fox start scouring the discotheques with the woman's photo in hand to try and get a line on whom she might have hooked up with. They hit paydirt when DaSilva spots whom he suspects might be Wulfgar at a disco with his newly altered facial appearance, courtesy of plastic surgery in Europe. DaSilva uses the police trick of staring Wulfgar down to see if he gets hinky and Wulfgar realizes he's been "made." A chase into the subway ensues, with Wulfgar taking an elderly woman hostage at knifepoint. DaSilva gets him in his sights but doesn't take the shot out of fear of hitting the hostage. In the ensuing chase, Sgt. Fox is ambushed by Wulfgar, who slices his face open and then makes good his escape. DaSilva, whose button has now been pushed, will no longer harbor any illusions about what he's dealing with. Wulfgar's associate in terrorism is one Shakka Holland, played by the beautiful late Indian actress Persis Khambatta. She is so effective in her portrayal of a coldhearted woman who kills without compunction or remorse, that your blood will be chilled when you see her on screen. Without even saying anything, she will terrify you. You will not forget the look on her face. It will definitely haunt your dreams. We all know that the movie is leading up to a climactic confrontation between DaSilva and Wulfgar. And we know when that moment of truth arrives that DaSilva, now effectively disabused of his "I'm not here to kill anyone" philosophy, will indeed do what needs to be done. I won't reveal the ending here, other than to say that it reflects well on his training and experience in the Street Crime Unit. This is a well-crafted film with excellent performances, beautiful photography, and a storyline that will resonate with the viewer on a visceral level. It will keep you hooked from the opening sequence until the end, this is a very underrated Stallone film and well worth checking out for anyone in the mood for a good action thriller
David Ladd
Super Reviewer
Nighthawks Quotes
| | |
| --- | --- |
| Lt. Munafo: | Get your hands off me! Understand this, sucka! You're a cop, and you go where you're assigned! |
| | |
| --- | --- |
| Wulfgar: | Not you, Fox. I want that bastard. |
| Lt. Munafo: | What bastid? |
| Lt. Munafo: | What bastard? |
| Deke DaSilva: | Me... |
| | |
| --- | --- |
| Deke DaSilva: | YOU'RE FUCKIN DEAD!! |
| Deke DaSilva: | You're fuckin' dead! |
| | |
| --- | --- |
| Deke DaSilva: | It's not my responsibility to be apart of an accidental homicide! |