No Man's Land
(1987)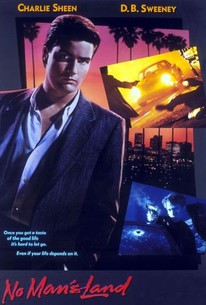 Movie Info
Benjy Taylor (D.B. Sweeney) is a rookie cop who goes undercover to nab a gang of car thieves in this routine crime drama. Taylor salivates over the lifestyle and money enjoyed by Ted Varrick (Charlie Sheen), the smooth operator who leads the Porsche pilferers, and he reports back to Lieutenant Vincent Bracey (Randy Quaid), who is convinced Ted is a cop killer but needs more proof. Taylor joins the gang and begins to justify car theft and the money it brings as gathering evidence. Soon his reasoning is clouded and the rookie cop gets in deeper when he actually begins to like Ted and the suspect's sultry sister Ann (Lara Harris).
Critic Reviews for No Man's Land
All Critics (6) | Top Critics (1) | Fresh (3) | Rotten (3) | DVD (2)
This is a movie about how money and excitement generate a seduction that can change personal values; it's better and deeper than you might expect.

Sheen and Sweeney in one slick flick...smart, sexy and suspenseful,
May 6, 2005 | Rating: 3/5
Audience Reviews for No Man's Land
Pretty unoriginal plot involving an undercover cop getting to hooked with his target and enjoying the car theft lifestyle. Surprisingly the film isn't half bad for a dumb action crime flick with Sheen as the main smooth guy, Sheen to be honest is perfect for the role of the playboy type creep who steals Porches for a living whilst Sweeney is a little weak but looks the part as a young inexperienced cop. Nothing really exciting happens in the film but there are some nice sequences involving the stealing of Porches and of course plenty of classic 80's German cars on display both in chase sequences and just as car porn hehe Randy Quaid and Bill Duke make up the rest of the classic old school line up, neither are that interesting but it all adds that retro charm, the same goes for the whole film really, nothing too amazing but a steady solid little crime thriller with nice performances, nice cars, a predictable plot, fair direction and perhaps alittle precursor to the 'Fast n Furious' franchise without the flashy glitz.
Phil Hubbs
Super Reviewer
No Man's Land Quotes
There are no approved quotes yet for this movie.