Odd Man Out
(1947)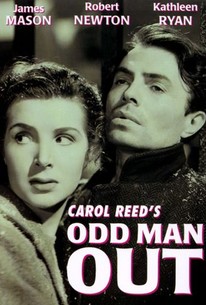 Movie Info
In the aftermath of a botched hold-up, intended to finance the activities of his IRA cell, a wounded Johnny McQueen takes shelter in the back-alleys of Belfast, a shadowy underworld where sanctuary is freighted at every moment with peril. Meanwhile, a vast police manhunt is launched -- a net that closes steadily, remorselessly in upon him.
News & Interviews for Odd Man Out
Critic Reviews for Odd Man Out
Audience Reviews for Odd Man Out
After an IRA-sponsored bank heist goes wrong, a seriously wounded man wanders Belfast. I spent most of this film wondering about the title card at the beginning that pretentiously proclaimed the film was about "the hearts of men" and not the IRA. I kept looking for what the film was saying about the hearts of men, but the collection of characters was more varied and idiosyncratic than can be reduced to types; they don't seem emblematic of a particular political position. I felt like the film wanted to be more reductive than what I saw in it, which is a strange reversal of fortune. The action sequences, particularly the attempted escape from the bank, were often thrilling. When the film became a character study instead of an action film in the second and third acts, director Carol Reed handled that transition well, though not seamlessly. James Mason flashes bits of a fleshed-out character, but mostly the script relegates him to playing wounded, but the large, supporting cast is colorful and interesting. Overall, I don't really know what Odd Man Out is saying or what it thinks it's saying, but the characters are round and mostly interesting, which ultimately makes the film worth watching.
Jim Hunter
Super Reviewer
There's a plethora of morals and conclusions to be drawn from Carol Reed's timeless Odd Man Out. A saga of hope vs. hopelessness in a duel to the bitter end. Absolutely brilliant.
Randy Tippy
Super Reviewer
½
Excellent British noir, perhaps a little overlong. James Mason is brilliant in the lead but it is beautifully acted by the entire cast.
Odd Man Out Quotes
There are no approved quotes yet for this movie.