The Omen
(1976)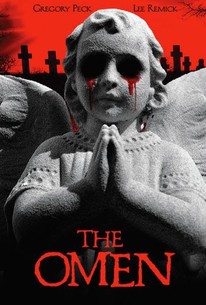 TOMATOMETER
AUDIENCE SCORE
Critic Consensus: The Omen eschews an excess of gore in favor of ramping up the suspense -- and creates an enduring, dread-soaked horror classic along the way.
Movie Info
The young son of an American diplomat and his wife, living in London, turns out to be marked with the sign of Satan, the infamous "666". It soon becomes apparent that he could be the Anti-Christ incarnate and possesses the evil powers to stop anyone who stands in his way.
News & Interviews for The Omen
Critic Reviews for The Omen
Audience Reviews for The Omen
½
Capitalizing on Gregory Peck's considerable reputation as stern but loving responsible liberal dad from To Kill A Mockingbird this film asks the question: "yeah, he's a good dad, but what if the kid wasn't his? What if the kid was the spawn of Satan himself, then what?" The work then follows the process of him affirming the identity of the child, switched at birth. What works is how gloomy foreboding is embraced as opposed to tacky jump scares, the go-to of the industry anymore. A second rate The Exorcist, perhaps, but still effective.
Kevin M. Williams
Super Reviewer
A rare type of horror film that is more about its mystery and building an ominous feel of danger than trying to scare us, and it works quite well when it's not too silly - as for instance with the ridiculous priest who babbles Catholic prophecies and could never be taken seriously.
Carlos Magalhães
Super Reviewer
½
One of the more iconic and popular horror films of recent history, "The Omen" takes all the unholiest of attitudes towards horror and amplifies them to compound scares. Not only is this film scary at times and freakish at others, but when you watch the premise, the reveals, and deaths, they hold significant weight. Several days later certain parts of this film roll around in your brain and you keep working out its genius. Much of what makes this film so engrossing seems to be the premise. An ambassador (Peck) and his wife (Remick) are told their child is stillborn, and the husband is prompted into adopting another child who has become orphaned. The child, Damien (Stephens), is actually the son of Satan and thanks to a prophecy, a priest knows to tell him that he must murder the child before he himself and everyone he loves, are killed. Of course the ambassador finds all of this ridiculous, but eventually goes on a mighty quest with a photographer (Warner) to find the truth before it's too late. There are also protectors to the child, including a satanic nanny (Whitelaw) and a Rottweiler who remains the boy's terrifying hellhound. Harvey Stephens as Damien is quite creepy, taking direction from Richard Donner quite well and giving a performance that eerily transcends any other demonic child in horror film history. His and Peck's performances greatly overshadow almost everyone else's, because they remain the hero and villain within the story. It's gruesome to think a child has to be killed, or that a child has that evil nested within themselves. Even at the very end you're not sure how everything will work itself out, and that is difficult since horror films are usually so cut and dry. This is a masterpiece of horror, and even today has some moments that will make you question whether you believe in the devil.
Spencer S.
Super Reviewer
The Omen Quotes
| | |
| --- | --- |
| Robert: | : [ignoring Brennan's warnings about Damien] ... Now, I've heard you. I want you to hear me: I *never* want to see you again. |
| Father Brennan: | ...You'll see me in *hell*, Mr. Thorn. There, we will share out our sentence. |
| | |
| --- | --- |
| Mrs. Baylock: | It's all for you, Damien! It's all for you! |