Our Daily Bread
(1934)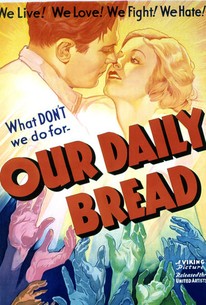 Movie Info
Unable to secure Hollywood-studio backing for his Depression-era agrarian drama Our Daily Bread, director King Vidor financed the picture himself, with the eleventh-hour assistance of Charles Chaplin. Intended as a sequel to Vidor's silent classic The Crowd (1928) the film casts Tom Keene and Karen Morley as John and Mary, the roles originated in the earlier film by James Murray and Eleanor Boardman. Unable to make ends meet in the Big City, John and Mary assume control of an abandoned farm, even though they know nothing about tilling the soil. Generous to a fault, the couple opens their property to other disenfranchised Depression victims, and before long they've formed a utopian communal cooperative, with everyone pitching together for the common good. Beyond such traditional obstacles as inadequate funding, failed crops and drought, John is deflected from his purpose by sluttish blonde vamp Sally (Barbara Pepper), but he pulls himself together in time to supervise construction of a huge irrigation ditch -- a project which consumes the film's final two reels, and which turns out to be one of the finest and most thrilling sequences that Vidor (or anyone) ever put on film. The acting by Tom Keene and Barbara Pepper is atrocious, but John Qualen saves the show as a dedicated Swedish farmer, especially when he loudly rejects the notion that communal farming is a "Red" idea (this didn't stop the anti-New Deal press from labelling the film as "Pinko" back in 1934 -- and never mind that the communist press considered the film "capitalist propaganda"!) The optimistic finale, distinguished by its Eisentein-like "rhythmic" editing, fortunately lingers in the memory far longer than the film's dramatic and structural defects. Our Daily Bread is also enhanced by Alfred Newman's stirring musical score, later borrowed by Darryl F. Zanuck for his production of Les Miserables (1935).
Critic Reviews for Our Daily Bread
Audience Reviews for Our Daily Bread
possibly the most socialist film ever to come from hollywood, vidor had to finance this sequel to 'the crowd' himself, with assistance from his friend charlie chaplin. stick around for the final sequence, one of the finest vidor ever filmed. interesting that, ten years later, he became a founding member of the 'motion picture alliance for the preservation of american ideals' which supplied the vast majority of friendly witnesses to the house un-american activities committee.
Stella Dallas
Super Reviewer
½
In "Our Daily Bread," Mary(Karen Morley) and John Sims(Tom Keene) have gone so long without work that they have to sell everything that is not nailed down to have money for food. Even a wealthy relative(Lloyd Ingraham) is going through harsh times and he cannot offer him employment. What he can do is give them access to a piece of land he owns that they can farm. However, that is not as easy as it looks. Luckily, Chris(John Qualen), a friendly Swedish farmer, happens by to help out, giving them the idea to put up signs that attract dozens of skilled and unskilled workers. In the prologue to his film "Our Daily Bread," director King Vidor says he made the film as a way of dramatizing the back to the land movement during the Great Depression.(See, the hippies did not invent the commune, just the naked frolicking part.) So, while there are important themes from this movie that are relevant today, it is actually a bit dated and dramatically uneven. On the upside, the movie does not sugarcoat the risks of the farm, gets the fear of the knock at the door right and the climax is absolutely riveting and rousing.
I mildly enjoyed this old movie, but the acting (or lack thereof) really bothered me.
Andrew Fillmore
Super Reviewer
Our Daily Bread Quotes
There are no approved quotes yet for this movie.