Our Town
(1940)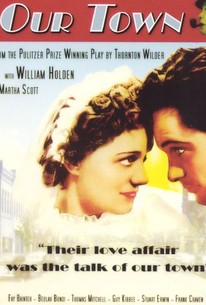 Movie Info
Thornton Wilder's Pulitzer Prize-winning play Our Town is given the Hollywood treatment in this adaptation directed by Sam Wood featuring an evocative score by Aaron Copland and outstanding production design by William Cameron Menzies. Frank Craven is Mr. Morgan, the narrator and our guide through the small town of Grover's Corners in the more innocent American times of 1901, 1904, and 1913. Mr. Morgan chronicles the lives of a handful of Grover's Corners citizens, centering upon Emily Webb (Martha Scott), the daughter of the local newspaper editor (Guy Kibbee), and George Gibbs (William Holden), the son of the local doctor (Thomas Mitchell). Emily and George fall in love and the film details their difficult courtship, marriage, and tragic childbirth. The film was nominated for a Best Picture Oscar, losing out to Rebecca.
Critic Reviews for Our Town
Audience Reviews for Our Town
In these days of "Make America Great Again" it's eye-opening to reflect that in 1940 Thornton Wilder won a Pulitzer ruminating on exactly the same premise (perhaps proving that society will always imagine that it's best days are behind it while incapable to see ahead). The good ol' days dwelt on herein are the turn-of-the-last-century. What's good about that, you may ask? Well, for one, a dog could sleep in the middle of Main Street all day and not be disturbed, the film suggests. An all star cast of character actors fill in the slots of homey, homespun, saccharine goodness while William Holden does his best shy and awkward.
Kevin M. Williams
Super Reviewer
Our Town is one of the best plays that I have seen executed on stage. Evidently, we weren't ready for a good screen adaptation in 1940. Despite the best efforts by William Holden, Thornton Wilder's original vision is lost.
John Ballantine
Super Reviewer
½
What a sentimental, sappy, silly movie. You understand the ideas they're trying to convey almost half way through, but they keep beating you over the head with them anyway. This movie got on my nerves.
Our Town Quotes
| | |
| --- | --- |
| Emily Webb: | (sighs) Oh momma, you never tell us the truth about anything. |
| Emily Webb: | (to her mom) Am I pretty enough to get anybody? |
| Mrs. Webb: | answers: You're pretty enough for all normal purposes. |
| | |
| --- | --- |
| Mr. Morgan the narrator: | The day (in the town) is winding down like a tired clock. |
| Emily Webb: | I'm going to make speeches all my life. |
| Mrs. Webb: | Seriously, not serious. |
| Emily Webb: | Momma, am I good looking? |
| Mrs. Webb: | answers: Course you are. |
| | |
| --- | --- |
| Mr. Morgan the narrator: | In our town, we like to know the facts about everybody. |