Paradise
(1982)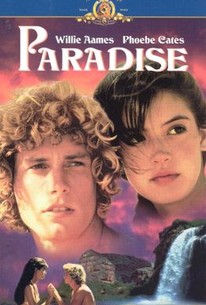 AUDIENCE SCORE
Critic Consensus: No consensus yet.
Movie Info
A "The Blue Lagoon" set in the Sahara Desert, this romantic adventure is set at the turn of century and chronicles the story of two beautiful teens who end up traveling alone from Bagdad to Damascus after their respective parents are killed by a the henchmen of a sheik who wants the girl for himself. During their travels the youths learn about life, love and the joys of sex.
Critic Reviews for Paradise
There are no critic reviews yet for Paradise. Keep checking Rotten Tomatoes for updates!
Audience Reviews for Paradise
Really shouldn't be compared to Blue Lagoon. Sure they do have to fend for themselves for half of the movie, but there's more going on in the story. So this is much better than Blue Lagoon. There's some good action scenes, and the two of them are trying to escape and get somewhere. They made a nice couple, there was a little comedy, and they weren't entirely clueless and helpless which helps the audience watch it. It's not a great movie, but it was okay.
Before she became a sensation that has endured to this day from wearing a red bikini in Fast Times At Ridgemont High, Phoebe Cates starred a year earlier in the much racier and much lesser known Blue Lagoon ripoff Paradise. The movie itself is terrible, but not without some unintentional laughs. Willie Aames is the blond surfer dude (although set in the 1820s) with a severe acting impediment, expressing every emotion as if he's reacting to electrical shocks from a car battery. His parents are killed by an evil sheik so he & Phoebe and her crusty English guardian flee into the desert to escape. Crusty English guardian soon dies, so once they stumble onto an oasis it's up to the young pair to create their own 'paradise.' Honestly the only reason to watch this so-called adventure is because of Phoebe, and you'll have to sit through bad drama, repetitive scenes, and masturbating monkeys to get there. But she delivers the goods, all of them, and with surprising frequency. Her first nude scene is the best, and truly one of the most breathtaking in movie history as she takes a long shower underneath a waterfall in a vast cave - the lighting and the setting create a composition of pure, natural beauty. If you loved her in Fast Times, you will worship her in this. She even sings the theme song!
Doctor Strangeblog
Super Reviewer
½
I'm not gonna lie, I rented "Paradise" and the only reason I rented it is because I heard that it showed Phoebe Cates nude. And it does show her naked several times, even more times than I was expecting it to. Unfortuanately, Phoebe Cates is just about the only good thing about this movie and it's definitely the only thing I'll remember from the movie. The only other possible good thing about the movie is that the monkeys can be funny. "Paradise" isn't a 100% ripoff of "The Blue Lagoon," it's more of an 80% ripoff. The differences are the monkeys, that the two main characters (Phoebe Cates and Willie Aames) are consistently chased by an enemy, and they're stranded in the desert instead of on an island. Like "The Blue Lagoon," both of them discover sex and fall in love with each other. I recommend anybody who just wants to see "Paradise" to see Phoebe Cates nude to buy the film because it's well worth it. However, if you're looking for a great movie to watch, I wouldn't recommend getting "Paradise" because it's only a mediocre movie, if it's even mediocre. For the movie, I give Phoebe Cates 5 stars and the movie itself 2 or 3 stars. NOTE: That was my Amazon review from the year 2001. Phoebe's body rocked!!!
Jason Owens
Super Reviewer
Paradise Quotes
There are no approved quotes yet for this movie.