The Phantom of the Opera
(1989)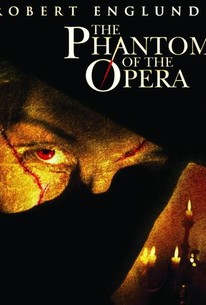 The Phantom of the Opera Videos
The Phantom of the Opera Photos
Movie Info
This is the fourth screen incarnation of Gaston Leroux's classic tragic figure. Unlike other versions, this new version is quite graphic and gory as it chronicle's the deformed phantom composer's obsessive love for a beautiful and talented young opera singer.
Critic Reviews for The Phantom of the Opera
Audience Reviews for The Phantom of the Opera
Gory slasher interpretation of the story. Overall I liked it. It did pander to a wider audience by beginning and ending in present day. This was also just a bit confusing, and seems to have been done in an attempt to lay the groundwork for some sequels. The makeup was very well realized, and I enjoyed how it allowed the Phantom to go out and about. The kills were gruesome and cruel, and Englund mostly managed to keep his performance away from Krueger territory. A bit of classical literature, mixed with 80's slasher, and some class act British performances, such as a young Nighy, make this a worthwhile watch.
Luke Baldock
Super Reviewer
½
Truthfully this is one of my favorite addaptions of the Book. Note I said "Book" It is perfect, classic, cheesey 80s Horror. Robert Englund is fantasic, although some may say this is basically a Nightmare on Elmstreet with a different title, I thought Englund played the character fantasically. He plays it more like Erik should be in the Book. A bit crazy, very angery and a Super genius. I loved that Bill Nighy was in this as well. A very pleasent surprise. And as for the girl who played Christine...yes she was not the best actress but I wasnt watching the movie for HER. If that was her singing though, she has a very nice voice. All in all if your looking for a gory, sometimes cheesey horror movie, You like Robert Englund, and you would like to see a different more acturate story of the Phantom then I deffinetly think you should check this one out. P.s. It has great music!
Morgan Salem
Super Reviewer
Awesome piece! Creepy version of The Phantom of the Opera.
The Phantom of the Opera Quotes
| | |
| --- | --- |
| Carlotta: | What will I think when I see you? |
| Eric Destler Phantom: | You'll just die. |
| | |
| --- | --- |
| Eric Destler Phantom: | You love the music, I am the music. |
| | |
| --- | --- |
| Eric Destler Phantom: | Only love and music are forever. |