The Pink Panther
(1963)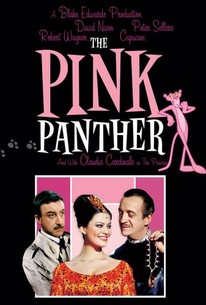 Movie Info
In the first in a series of detective comedies from director Blake Edwards starring Peter Sellers as bumbling French Inspector Jacques Clouseau, the mishap-prone snoop is actually a supporting player. David Niven stars as Sir Charles Litton, a suave jewel thief known as "The Phantom." Vacationing in a deluxe Alpine resort, Litton's real purpose is to purloin the Pink Panther, a gem of enormous worth owned by a princess (Claudia Cardinale). On his trail for years, Inspector Clouseau keeps losing his quarry, perhaps because his wife Simone (Capucine) is Litton's lover and alerts him every time her husband draws near. Also after the Panther is Litton's American nephew, George (Robert Wagner). At a posh costume ball at the princess' villa, the bauble is stolen and Clouseau, still trying to determine the bandit's identity, is framed for the crime himself. The Pink Panther made Sellers and his Clouseau act so popular that the character moved to center stage in a series of farcical sequels.
Critic Reviews for The Pink Panther
Audience Reviews for The Pink Panther
½
Inspector Clouseau may not be the main character, but Peter Sellers steals the show in this a delightful comedy that boasts Henry Mancini's classic theme and some very funny moments (many of them improvised), even if its sense of humor may feel a bit dated sometimes.
Carlos Magalhães
Super Reviewer
Altho this film made Sellers a star, he is merely one character in Edwards' ensemble piece homage (one of many he made) to older films. Witness the rethought Marx Brothers mirror dance. And Capucine is easily as funny as Sellers and really is Ginger Rogers to his Astaire comically speaking. Its a tad dated now, yes, but still a smile worthy piece with the charm of its stars performing Edwards' choreography of sight gags.
Kevin M. Williams
Super Reviewer
I'm not a big fan of Sellers, and his inspector Clouseau character is really annoying and I didn't find him very funny, not that Martin's Clouseau is any better in the remake, he's worse actually. Still, the story and the rest of the cast is pretty good, so I'd say this movie is okay.
The Pink Panther Quotes
| | |
| --- | --- |
| Inspector Jacques Clouseau: | [having stepped on and broken the violin] Oh well, if you've seen one Stradivarius, you've seen them all. |