Piranha
(1978)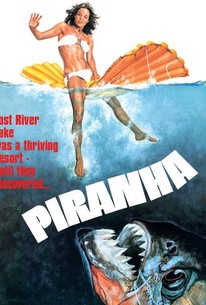 Movie Info
The sophomore effort for director Joe Dante, a future protégé of Steven Spielberg, this low-budget, high-camp horror spoof of Jaws (1977) features several chiller stars of yesteryear. Insurance investigator Maggie McKeown (Heather Menzies) is dispatched to find two missing teenage hikers near Lost River Lake. She hires surly backwoods drunkard Paul Grogan (Bradford Dillman) to serve as her guide. Searching the area, they find an abandoned military facility. The only resident is Dr. Robert Hoak (Kevin McCarthy), former head of a top-secret project to breed piranha for use in the Vietnam War. The project was closed down years ago, but Hoak has continued raising a deadly strain of the flesh-eating fish. When Hoak is knocked unconscious, Maggie and Paul accidentally release the piranha into a local river, which leads to the lake where a children's summer camp and a newly opened tourist resort will provide plenty of fish food for the hungry predators. Maggie and Paul race to warn the locals, but their pleas fall on skeptical ears, such as those of resort owner Buck Gardner (Dick Miller) -- until the piranha reach the swimmers. Piranha (1978) was co-written by John Sayles, making his motion picture debut. ~ Karl Williams, Rovi
News & Interviews for Piranha
Critic Reviews for Piranha
Audience Reviews for Piranha
½
Despite showing early signs of Dante's peculiar sense of humor (the ululating sound made by the piranhas is a hilarious example), this spoof of Jaws (or as Roger Corman put it, his "homage" to that classic) did not resist well the effect of time, looking pretty trashy and silly today.
Carlos Magalhães
Super Reviewer
This obvious rip-off of the original "Jaws" was one of the biggest cult films to come out of the exploitative genre, and it's even memorable enough to have been remade in 2010. Unlike the remake it's actually got a fairly interesting plot, as these mutant piranhas are let into a stream by a good intentioned investigator (Menzies) and a drunk fisherman (Dillman). They attack everyone from camp counselors to kids, to a beach of people, all to the chagrin of the two who are trying to warn everybody about the advancement of these beasts. The story is a little lame because we're just watching these two trying to tell everybody that there are piranhas and no one listens to them, and therefore the piranhas attack and hurt everyone. The army knows about it but they don't seem to understand basic science, so they kind of let it happen. There's a very open ending and it trails off near the end, so it's not the best story, but then again, you're not watching for that, are you?
Spencer S.
Super Reviewer
½
Feeling like a replica of Jaws at times, Piranha takes all the fun out of suspense horrors, but having terrible actors at their disposal and a script that anyone could have written. The kill setups are atrocious and the piranha attacks are filmed very unevenly, but it can be fun to watch at times. Once the iconic massacre scene happens, the movie picks up a bit of steam, but overall, it is a very poorly put together film. I feel that it is meant to be a bad film, spoofing these types of movies, but that didn't help the fact that I laughed during ever death. This film had too much going for it, for what it turned out to be. "Piranha" is one film that I will never forget, but for all the wrong reasons. Joe Dante hit a speed bump in his career with this film. Everything about this movie screams bad, but I think that is what they intended, so I will cut it some slack. It's a fun watch one time around, but that is all!
Piranha Quotes
There are no approved quotes yet for this movie.