The Pirates of Penzance
(1983)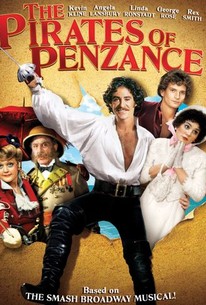 The Pirates of Penzance Photos
Movie Info
Joseph Papp's notion of staging one of Gilbert and Sullivan's best-loved operettas with two pop singers (Linda Ronstadt and Rex Smith) in the leads paid off as a surprise Broadway smash in the early 1980s, and this film faithfully reproduces Papp's production, featuring most of the original cast and the original director. Frederic (Smith) has been taught since childhood to be a sea-going bandit by the Pirate King (Kevin Kline), but with his 21st birthday imminent, Frederic wants to leave pirating behind, especially after he becomes infatuated with innocent Mabel (Ronstadt). But the Pirate King informs Frederic that since he was born on the last day of February on a Leap Year, his 21st birthday won't roll around for some time yet, and he still owes the King some raiding on the high seas. To Frederic's embarrassment, the Pirate King's next target turns out to be Major General Stanley (George Rose), Mabel's father! The Pirates of Penzance also features Angela Lansbury as Ruth (the sole major casting change from the Broadway production -- Estelle Parsons played the role on stage).
Critic Reviews for The Pirates of Penzance
Audience Reviews for The Pirates of Penzance
Stagy but exuberant. The cast members give it their all.
I was in the chorus of the Pirates of Penzance in high school, so I always wanted to see this to see if it stirred any memories. I hope our school version 45 years ago was better than this movie as I thought it was terrible. Hard to follow the words. Rather silly story. Unless you are a fan of operettas, skip this movie.
I love this movie. Ever since seeing it when it came out in 1983 it has been a favorite of mine. If you love musicals you will enjoy it. Linda Ronstadt, Rex Smith, Angela Lansbury, & Kevin Kline are a great cast in this film. Linda Ronstadt and Rex Smith are at there peak. Check this gem out...though it is hard to find on tv.
Mason Williams
Super Reviewer
The Pirates of Penzance Quotes
There are no approved quotes yet for this movie.