Planet of the Apes
(1968)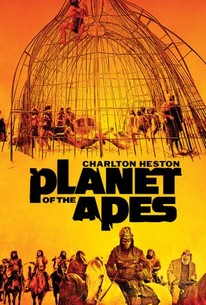 TOMATOMETER
AUDIENCE SCORE
Critic Consensus: Planet of the Apes raises thought-provoking questions about our culture without letting social commentary get in the way of the drama and action.
Planet of the Apes Photos
Movie Info
Originally intended as a project for Blake Edwards, the film version of Pierre Boule's semisatiric sci-fi novel came to the screen in 1968 under the directorial guidance of Franklin J. Schaffner. Charlton Heston is George Taylor, one of several astronauts on a long, long space mission whose spaceship crash-lands on a remote planet, seemingly devoid of intelligent life. Soon the astronaut learns that this planet is ruled by a race of talking, thinking, reasoning apes who hold court over a complex, multilayered civilization. In this topsy-turvy society, the human beings are grunting, inarticulate primates, penned-up like animals. When ape leader Dr. Zaius (Maurice Evans) discovers that the captive Taylor has the power of speech, he reacts in horror and insists that the astronaut be killed. But sympathetic ape scientists Cornelius (Roddy McDowell) and Dr. Zira (Kim Hunter) risk their lives to protect Taylor -- and to discover the secret of their planet's history that Dr. Zaius and his minions guard so jealously. In the end, it is Taylor who stumbles on the truth about the Planet of the Apes: "Damn you! Damn you! Goddamn you all to hell!" Scripted by Rod Serling and Michael Wilson (a former blacklistee who previously adapted another Pierre Boule novel, Bridge on the River Kwai), Planet of the Apes has gone on to be an all-time sci-fi (and/or camp) classic. It won a special Academy Award for John Chambers's convincing (and, from all accounts, excruciatingly uncomfortable) simian makeup. It spawned four successful sequels, as well as two TV series, one live-action and one animated. ~ Hal Erickson, Rovi
Critic Reviews for Planet of the Apes
Audience Reviews for Planet of the Apes
½
As three scientists crash land on an unknown planet, they search for any living organism they can find in order to survive. However, they stumble upon something this is beyond anything they can imagine. They are now living among apes, who treat humans like humans treat animals. As ridiculous as the concept may seem, it feels real, due to Charlton Heston's great performance. This film is more of a realization and adventure film rather than an all out ape war with the title implies. I loved this film from beginning to end for not giving us gimmicks and sticking to a fantastically toned storyline. It's slow moving but extremely engaging and will have you on the edge of your seat at what is going to happen next. From action to adventure, from drama to science fiction, Planet of the Apes is an amazing film for it's time and should be remembered by everyone. This is a wonderful picture!
½
A classic that, unfortunately, does show its age, Planet of the Apes trucks with the big satires - think: Animal Farm - and is really about paradigm shifts and epistemological derivation of power in a society. It brings to mind especially the evolution vs. creation debates that some U.S. school boards are (somehow) still having. Charlton Heston borders on the ridiculous, but in another sense, this is an epic, like his other works - Ben Hur, The Ten Commandments - and so it requires that "big" approach. The ending is corny, but for the most part this is a well thought-out and valuable piece of speculative fiction, and a film I liked much more than its remake, which (unfortunately), I must now make myself rewatch.
Daniel Perry
Super Reviewer
[img]http://images.rottentomatoes.com/images/user/icons/icon14.gif[/img] Planet Of The Apes is a true science fiction movie classic that's intriguing political objection and interesting social commentary doesn't get in the way of engrossing drama and visually arresting action sequences. It never attacks you with it's debate or assault you with noisy gun fights, it's slow pacing and laid back attitude is the most likely cause of this but it's true purpose is to entertain and despite the pacing it never gets boring no matter how many times you see it.
Directors Cat
Super Reviewer
Planet of the Apes Quotes
| | |
| --- | --- |
| Taylor: | Dr. Zaius, would an ape make a human doll....that talks? |
| | |
| --- | --- |
| Lucius: | Why did you do that? Scrape off your hair? |
| Cornelius: | It makes you look somehow ... less intelligent. |
| Cornelius: | It makes you look somehow less intelligent. |
| | |
| --- | --- |
| Taylor: | They blew it up! God, damn you! Damn you all to hell!!! |
| | |
| --- | --- |
| Zaius: | The Forbiddon Zone was once a paradise. Your kind made a wasteland of it, ages ago. |