Popeye
(1980)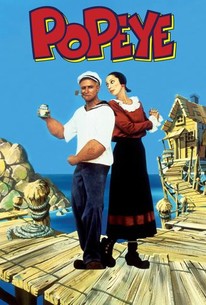 TOMATOMETER
AUDIENCE SCORE
Critic Consensus: Altman's take on the iconic cartoon is messy and wildly uneven, but its robust humor and manic charm are hard to resist.
Movie Info
In the town of Sweetville, lovable sailor Popeye seeks out his long-lost father. Along the way, he vies with the rough Bluto for the affections of Olive Oyl and adopts the young Sweet Pea. This unconventional musical was based on the enduring (and endearing) cartoon character.
Critic Reviews for Popeye
Audience Reviews for Popeye
½
A delightful and sweet adaptation that captures the innocent spirit of the comic strip and the cartoon, translating it to the screen with great songs, a splendid production design (the entirely constructed set of Sweethaven is fabulous) and priceless moments between Williams and Walston.
Carlos Magalhães
Super Reviewer
Considering that Popeye is such an icon, this live action adaptation of the comic is mediocre to say the least. I went into this one wanting to really enjoy this, but I couldn't enjoy it. This film doesn't stand out and it suffered from lack of effective material for the actors to work with. The film just doesn't deliver, and as a hole it's a mediocre film that isn't worth your time. Popeye could have been a great movie, but the film lacks in anything really entertaining. I felt that Robin Williams was wasted on such a lacking film, and with that being said, Popeye is a failed attempt at bringing a comic book character to the screen. I felt that the potential was wasted, and the ideas really could have stood out, if the script would have been rewritten. This film ends up being a boring film, one that never becomes anything really memorable or fun for the viewer. Don't expect anything great from this one, you'll greatly be disappointed, as this live action version of the comic strip just doesn't have anything going for it. I was really hoping that this film would have been a fun, entertaining ride, unfortunately, there never is anything to really make this film work, and in the end, it's a mediocre comedy that is void any humor, as the gags here simply suffer and are not funny. Don't go into this one wanting something memorable, you'll sadly be disappointed and this lazy film. Popeye had some interesting ideas, but the execution was poor, and watch something else, you'll be glad you did.
The sailor man with the spinach can! Good movie! This was Robin Williams first serious movie role and he is a brilliant Popeye. He brings so much humanity and pathos to this character that it is easy to see the great movies in his future. Shelly Duvall was born to play Olive Oyl and she does not squander the role of a lifetime. And in a smaller role, a standout performance is turned in Bill Irwin as Ham, Olive's bumbling, stumbling, clown of an ex-boyfriend. "Popeye" is a great conversion, from the comic strip to cartoon to film. With added depth and atmosphere, it remains an underrated classic appropriate for those willing to be transported by art to a fantasy land far , far away. However, overall, it's a nice, pleasing type of film. It's no award-winner, but it's a lot better than what you might have read from national critics. If you like Popeye's cartoons and comics, you should like this film, too. Buff sailor-man Popeye arrives in an awkward seaside town called Sweet Haven. There he meets Wimpy, a hamburger-loving man; Olive Oyl, the soon-to-be love of his life; and Bluto, a huge, mean pirate who's out to make Sweet Haven pay for no good reason. Popeye also discovers his long-lost Pappy in the middle of it all, so with a band of his new friends, Popeye heads off to stop Bluto, and he's got the power of spinach, which Popeye detests, to butt Bluto right in the mush. Watch as Popeye mops the floor with punks in a burger joint, stops a greedy tax man, takes down a champion boxer, and even finds abandoned baby Swee' Pea. He's strong to the finish 'cause he eats his spinach!
Popeye Quotes
| | |
| --- | --- |
| Popeye: | Popeye: Another thing I got is a sensk of humiligration. Now, maybe you swabs can pool your intelligensk and sees that I'm axking you for an apologeky. |
| Popeye: | Another thing I got is a sensk of humiligration. Now, maybe you swabs can pool your intelligensk and sees that I'm axking you for an apology. |
| Popeye: | Another thing I got is a sense of humiligration. Now, maybe you swabs can pool your intelligensk and sees that I'm asking you for an apology. |
| Popeye: | Another thing I got is a sensk of humiligration. Now, maybe you swabs can pool your intelligensk and sees that I'm axsking you for an apologeky. |
| | |
| --- | --- |
| Poopdeck Pappy: | Children! You give them everything they want. Give them candy and a lot of toys and what do you get in return? You get a lot of noise: Nah nah nah nah nah, nah, my poppa's a mean old man! |
| | |
| --- | --- |
| Popeye: | I'm a very tolerant man except when it comes to holding a grudge. |