The Postman Always Rings Twice
(1946)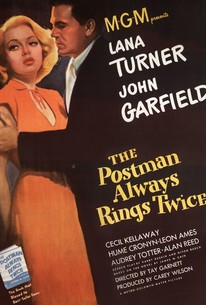 The Postman Always Rings Twice Photos
Movie Info
James M. Cain's novel received its first authorized screen treatment in this MGM production. Drifter Frank Chambers (John Garfield) takes a job at a roadhouse run by slovenly but likeable Nick Smith (Cecil Kellaway). Nick's sexy young wife Cora (Lana Turner) takes an immediate liking to Frank, but he senses that she's trouble and he keeps his distance--for a while, anyway. Inevitably succumbing to Cora's tawdry charms, Frank enters into her scheme to murder Nick and claim the old boy's insurance money. Not long after committing the foul deed, Frank and Cora are arrested. Thanks to the conniving of slimy attorney Arthur Keats (Hume Cronyn), the illicit lovers are able to beat the murder rap--but, as the film's title symbolically indicates, they eventually pay for their misdeeds in an unexpected manner. Fans of the James M. Cain original--not to mention Cain himself--were aghast at the changes made in the novel by screenwriters Harry Ruskin and Niven Busch; many of the alterations were made to conform with censorship standards of the era, while others simply existed to massage the egos of the stars. Even so, the 1946 version of The Postman Always Rings Twice is infinitely more satisfying than the no-holds-barred 1981 remake, directed by Bob Rafelson with Jack Nicholson and Jessica Lange.
Critic Reviews for The Postman Always Rings Twice
Audience Reviews for The Postman Always Rings Twice
½
I wasn't expecting a classic film noir along the lines of "Double Indemnity" or "Out of the Past" when I finally got around to watching The Postman Always Rings Twice, and for awhile, I thought I might have been wrong. Compared to the benchmarks of the genre, I didn't have extra high hopes for this movie. Then my mood brightened when it actually started becoming very engaging. I wasn't being blown away, but I did start getting immersed in the cunning "noir 101" plot. The reviewer who noted MGM's dramatic lighting of Turner is right: it's ridiculous, but it does come with the territory I guess. Other than that, things seemed to be moving in place very smoothly. Then an odd thing happened. The movie refused to end. It wasn't that the pace was slow, it moved speedily. Something was always happening, and there was plenty of suspense/overblown MGM music blaring out of the speakers at any given moment. But the plot was way too top-heavy. They get caught doing the murder. Okay, time for trial, some final irony, then the movie's over -- only that it isn't. It just kept going. New subplots turned up, bribes, plot twists, double crosses, it just kept happening and happening. It was too much. The problem was, nothing of any substance was given to the events that kept happening. It was like the screenwriters noted "okay, this happened in the book, but we have to trim it a bit, so we'll make a small two minute scene including it in the movie" and suddenly the movie is full of these large occurrences given very brief sketched out screen time. Garfield runs off for a weekend in Tijuana with some random woman? What just happened? Things just grew too implausible. During the final embarrassing "what does God make of all this" speech to the priest (aren't noirs supposed to be existential?), I happened to look at the video case and glance at the title. Realizing it hadn't been referenced in the movie yet I stared at the screen and muttered "out with it" and in return got some over-reaching ramblings concerning how "he always rings twice, always rings twice" ext. Yikes. The meaning behind the story's title is actually quite fascinating, but you wouldn't know it by the film's explanation. I have to say though, the movie had some very good irony and employed a load of classic film noir tricks (the final outcome must have influenced the Coen Brothers with "The Man Who Wasn't There"). Garfield and Lana Turner were both outstanding, and walked the opportunistic yet naive line beautifully; however the plot is too dependent on coincidence, and the never ending onslaught of twists for plot twists sake becomes dull after a while. I'd recommend this film to noir buffs and Golden Age MGM fans only.
Jonathan Hutchings
Super Reviewer
½
"Darling, can't you see how happy you and I would be together here...without him?" In this steamy collaboration between John Garfield and Lana Turner, Garfield plays a young, aimless vagabond who arrives at a small diner near Los Angeles in his travels, and enters the life of the gorgeous young woman (Turner) and her older husband who own the place. The connection between the young man and woman is immediate, and their desire to be together and own the restaurant leads to a story of murder, deceit, violence, and betrayal. The Postman Always Rings Twice surprised me with the number of twists, turns, and shifts in tone that it had. The beginning, middle, and end of the movie are all quite different, and the characters go through some radical changes. For fans of Lana Turner, she was never more stunning than she was in this. She was just an absolutely breath- taking woman, and every camera angle and costume she wore seemed designed to highlight her beauty. The movie is almost worth watching for that reason alone. I thought Postman was good, but not great. The story was interesting, but most of the tension and suspense is in the first part of the movie, which makes the latter half seem a little lacking at times. Still, this was a very watchable thriller, and big fans of Garfield or Turner should consider this a "must see".
Another good thriller from the forties, somewhat like a lot of other thrillers, but it has a good cast, it's worth watching.
The Postman Always Rings Twice Quotes
| | |
| --- | --- |
| Madge Gorland: | It's a hot day. And that's a leather seat, and I got a thin skirt |
| Madge Gorland: | It's a hot day. And that's a leather seat, and I got a thin skirt. |
| Frank Chambers: | I'll cool it off for you! |
| | |
| --- | --- |
| Frank Chambers: | With my brains and your looks, we could go places. |