Power
(1986)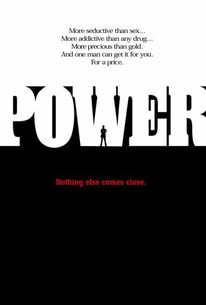 Movie Info
A star-studded cast portrays political movers and shakers in this drama about politics and the media. Richard Gere is Pete St. John, a gilt-edged "image" advisor to the likes of powerful and often crooked politicians -- including a South American candidate for the top office in his country and, reluctantly, a conservative industrialist named Jerome Cade (J.T. Walsh). Cade is after a Senate seat vacated by Sam Hastings (E.G. Marshall), a liberal politician who fits in with the views that Pete once upheld. When things start to go wrong, it looks like Cade's gruff advisor Arnold Billings (Denzel Washington) might hold one of the keys to Pete's discovery of the truth about Cade -- and may be the reason why Hastings is leaving his job.
Audience Reviews for Power
In an earlier review I mentioned that corruption on the police force is a theme Lumet beats to death, but in Power he gets to beat up the media too, just as he did in Network. But as Roger Ebert says, "Network had a plot, and Power does not." The film seems to explore several issues that, in 2010, we now accept as commonplace. We realize - or at least should realize - that we basically vote on politicians based on the efficacy of their media consultants. In all honesty, I can't remember if I knew this in 1986, so I don't know if Lumet is exploring new ground. Also, I don't think Power is structurally sound. It seems awfully episodic and stagey. I normally don't blame a film for this, but the piling on of scene upon scene with stagnant shots and relatively stagnant dialogue affects the film's pace. Finally, Lumet gives little clues as to who the bad guy is. In Find Me Guilty, the prosecutor has a whiny, petulant moment, and I immediately knew he was going to lose. In Power, Washington's character is introduced associating with an Arab, and in Hollywood, Arabs equal "bad" and "oil." Yes, Power is more than a little bit racist. On the bright side, it was great seeing Denzel Washington saying "fuck."
Jim Hunter
Super Reviewer
I really enjoyed this movie. Excellent actors and a great storyline. That's what I look for in a movie :)
Cassie Hill
Super Reviewer
Power Quotes
There are no approved quotes yet for this movie.