Pride and Prejudice
(1940)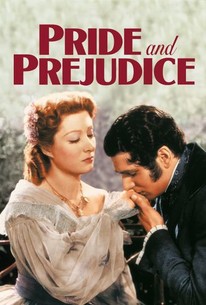 Pride and Prejudice Photos
Movie Info
Long before 19th-century novelist Jane Austen became a hot property in Hollywood, MGM produced this opulent and entertaining adaptation of one of Austen's best-known novels. The elegant and slyly satirical comedy of manners gets under way when socially conscious Mrs. Bennet (Mary Boland), with the begrudging assistance of her husband (Edmund Gwenn), begins seeking out suitable (and suitably wealthy) husbands for her five daughters: Elizabeth (Greer Garson), Jane (Maureen O'Sullivan), Lydia (Ann Rutherford), Kitty (Heather Angel), and Mary (Marsha Hunt). One of the least likely matrimonial prospects is Mr. Darcy (Laurence Olivier), a rich, handsome, but cynical and boorish young man. Naturally, Elizabeth Bennet, the strongest-willed of the Bennet girls, is immediately fascinated by him, and she sets out to land him -- but only on her own terms, and only after she has exacted a bit of genteel revenge for his calculated indifference to her. Though Austen's novel was set in 1813, the year of its publication, the film version takes place in 1835, reportedly so as to take advantage of the more attractive costume designs of that period. Not surprisingly, a few changes had to be made to mollify the Hollywood censors (eager to find offense in the most innocent of material): the most notable is the character of Mr. Collins (Melville Cooper), transformed from the book's hypocritical clergyman to the film's standard-issue opportunist.
Critic Reviews for Pride and Prejudice
Audience Reviews for Pride and Prejudice
½
I heard that this movie strayed from Austen's novel so I wasn't expecting it to be as good as other adaptations. On the contrary, I found this version DELIGHTFUL! Though Laurence Oliver is a bit of a "stick in the mud" (I find his character flat) Greer Garson and her co-stars more than make up for it. I actually found the bit at the end with Lady Catherine de Bourgh which strayed from the original actually a better and more entertaining story line. What a great romantic comedy! I am sad that it took me this long to discover this gem. True that the costumes are all wrong for the time period in which Austen's story takes place but the beauty of creative license is that one can set the story in any time period, just as Romeo + Juliet has been set in modern times on more than a couple occasions.
Dannielle Albert
Super Reviewer
Absolute favorite! Greer Garson playing the infamous Elizabeth was brilliant.
good even with liberties taken but greer is too old to be a believable nineteen year old.
Pride and Prejudice Quotes
There are no approved quotes yet for this movie.