The Prince and the Pauper
(1937)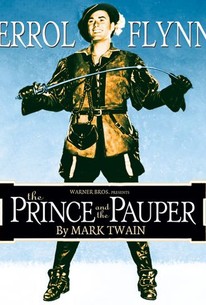 The Prince and the Pauper Photos
Movie Info
Warner Bros.' rousing The Prince and the Pauper is the first talkie version of Mark Twain's fanciful mistaken-identity novel. According to Twain, young Prince Edward, son of Britain's King Henry VIII, had an exact look-alike, a lowborn beggar boy named Tom Canty. Weary of royal protocol, Edward talks Tom into trading places with him. As a result, Tom is thrown into a life-threatening vortex of political intrigue when King Henry dies, while the prince experiences first-hand the cruelties and inequities of Britain's class structure. The overlong climactic coronation scene in Westminster Abbey was obviously intended to cash in on the international excitement surrounding the crowning of Britain's King George VI in early 1937. Top-billed Errol Flynn plays soldier-of-fortune Miles Hendon, who comes to both boys' rescue, while Claude Rains is the scheming Earl of Hertford, who tumbles to Tom Canty's secret but goes along with the Coronation plans in order to advance his own political agenda. The Prince and the Pauper are played by real-life twins Billy and Bobby Mauch, talented veterans of the Let's Pretend radio show who appeared separately and together in a handful of subsequent films before entering the production side of the business as film editors.
Critic Reviews for The Prince and the Pauper
Audience Reviews for The Prince and the Pauper
½
Okay version of story, rather lifeless until Errol shows up but thats about an hour in and its rather precious up to that point.
The Prince and the Pauper Quotes
There are no approved quotes yet for this movie.